2019 in Middle-Grade Books
Narrowing down to my top ten middle-grade books is always the hardest of all! Some of these books are younger than others, as always, because age ranges are hard to define. A few of these would be borderline chapter books; a few would be borderline young adult.
The Racehorse Who Wouldn't Gallop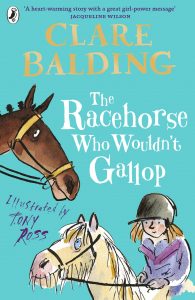 Writer: Clare Balding
Illustrator: Tony Ross
Publisher: Penguin UK
As a child, I loved the Animal Ark series so much that I longed to be a vet. When I learned that studying medicine involved cutting things up, I balked. Yet, animals were special to me, and I would go as far as to say that they are special to most children.
The Racehorse Who Wouldn't Gallop is a charming story of love for animals. It is a tale of friendship and grit: friendship among animals, people, and animals and people. Once more, it is a story that explores the idea that children can do anything; they are superheroes!
Read my review of The Racehorse Who Wouldn't Gallop
Buy The Racehorse Who Wouldn't Gallop
Mockingbird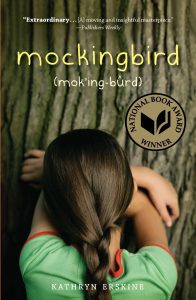 Writer: Kathryn Erskine
Publisher: Puffin Books
Mockingbird is a beautiful, heart-warming book told from the point of view of young Caitlin, who finds the world of language confusing and complicated. Somehow, it seems that everything in life requires her to Work At It, living as she does with Asperger's. Talking to her counsellor is difficult and coming to terms with the fact that people often say things they don't mean is bewildering. Caitlin's world and the way in which she deals with things made me cry.
Read my review of Mockingbird
Buy Mockingbird
Gorilla Dawn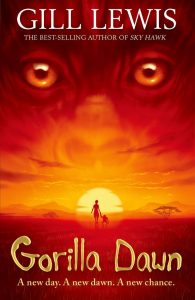 Writer: Gill Lewis
Publisher: Oxford University Press
Gorilla Dawn is a brilliant book, a crucial read in today's world. While it is never possible to be completely aware of the consequences of the simplest of our actions, Gorilla Dawn opened my eyes to another aspect of the havoc we wreak on the world around us.
Young Imara is possessed by a demon, or so she believes. The demon keeps her strong. It makes her important. And in that way, it ensures that she isn't dispensed with as a useless girl who contributes nothing to the heartless tribe of rebels with whom she lives.
Yet, a time comes when she must decide who she is and what her priorities are: whether she will be loyal and brave, or simply do her best to survive, no matter what.
Read my review of Gorilla Dawn (and a few other books)
Buy Gorilla Dawn
The One and Only Ivan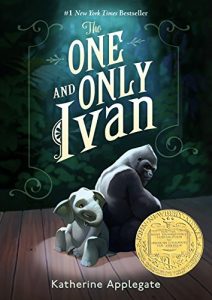 Writer: Katherine Applegate
Publisher: Harper Collins
I could cry as I think of The One and Only Ivan. Ivan is a gorilla, a silverback, the leader of his troop. Unfortunately, he lives not in the wild, but in a glass cage in a mall for people to gawk at him. Things go on, day after day in captivity and Ivan does nothing.
But when an elephant calf is brought into the next cage, something stirs within him. He knows that a glass cage in a mall is not his domain. Even though he has trained himself not to keep his hopes too high, he realises that he must not forget how things used to be. He must remember the wild so that he can work towards being free.
Read my review of The One and Only Ivan
Buy The One and Only Ivan
Karma Fights a Monster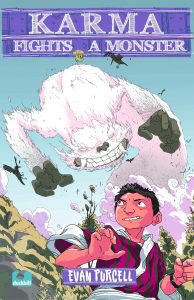 Writer: Evan Purcell
Publisher: Duckbill
When I started reading Karma Fights a Monster, I had no idea what to expect. Would the monsters in the book be real or figments of the protagonist's imagination? Would there be real monsters?
And then, even as I read the book, I continued to be astonished by the way it progressed. A highly unusual book, I was struck by the kind of monsters inhabiting Karma's world. I chuckled at the gentle humour and loved the uniqueness of the plot. I was sucked into the story and am waiting to read Karma's next adventure.
Read my review of Karma Fights a Monster
Buy Karma Fights a Monster
The Extraordinary Colours of Auden Dare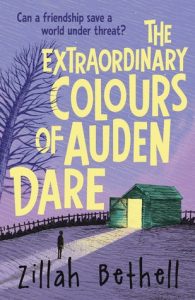 Writer: Zillah Bethell
Publisher: Piccadilly Press
A water war – is this the reality that looms over us?
In Auden Dare's world, water is a precious commodity and the black market for contaminated water thrives. Against this backdrop, we meet Auden and his new friend Vivi, who are sure that Auden's uncle, Dr Jonah Bloom, was killed for a reason, and this reason has something to do with preventing a war from breaking out. In a world of codes and secrecy, the two unusual friends begin a journey of investigation and discovery. They must find out the truth, but to do that, they must learn to love and trust – not just one another but also the poetry-spouting robot, Paragon.
Read my review of The Extraordinary Colours of Auden Dare
Buy The Extraordinary Colours of Auden Dare

The Explorer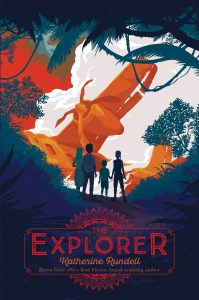 Writer: Katherine Rundell
Publisher: Bloomsbury
Katherine Rundell is a writer I look out for. I've loved everything I've read by her, and though The Explorer began slowly, I grew to love it.
When their plane crashes in the Amazon and the pilot dies, four children need to learn to fend for themselves. At the best of times, the Amazon is an unfriendly place. For urban kids who know little about survival, it's next to impossible, especially as they barely know one another. Grudgingly, they make friends because they feel that the only chance they have to survive is to stick together. They must decide what to do, how to do it and how to multiply their chances of getting out of the jungle alive.
Read my review of The Explorer
Buy The Explorer
The Mighty Miss Malone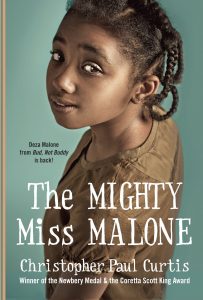 Writer: Christopher Paul Curtis
Publisher: Wendy Lamb Books
An achingly beautiful book, The Mighty Miss Malone pulses with optimism and sweetness.
Deza Malone is determined to become a writer. She may be poor, her teeth may be rotting, but the mighty Miss Malone is mighty indeed, for nothing can stop her. Despite the Great Depression, the Malone family is on its way to a place called Wonderful. Eating food with bugs in it and not being able to afford a dentist are just tiny obstacles in their path, for The Mighty Miss Malone is a story of triumph.
Read my review of The Mighty Miss Malone
Buy The Mighty Miss Malone
The Diamond of Drury Lane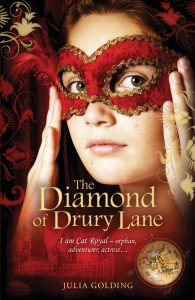 Writer: Julia Golding
Publisher: Egmont
How can I list my favourite books without mentioning Julia Golding?
In 2019, I devoured the Cat Royal series and loved each one. I chose The Diamond of Drury Lane here simply because it is the first of a fantastic series featuring the enterprising young Cat Royal as she navigates her way through 18th century London, trying to carve out a niche for herself as an author and an actress, but more – as a force to be reckoned with. Fiercely loyal to her friends, Cat Royal sparkles through the pages of each of the books in the series.
Read my review of The Diamond of Drury Lane
Buy The Diamond of Drury Lane
Explore a few of the other books in the series:
Black Heart of Jamaica
Cat o' Nine Tails
Den of Thieves
The Infinite Lives of Maisie Day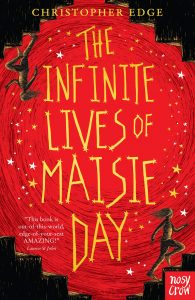 Writer: Christopher Edge
Illustrator: Matt Saunders
Publisher: Nosy Crow
I read a lot of science fiction in 2019, and The Infinite Lives of Maisie Day features on this list not just because I love it, but also because I delight in reading about a female protagonist who is a scientific genius.
Maisie Day, all of ten, has a private tutor because she is academically gifted. This may sound wonderful, but it makes for rather uneasy relationships, including with her sister Lily, who is a regular teen. On Maisie's tenth birthday, when things should have been perfect, they instead spiral out of control. Maisie and Lily are sucked into a place where they must negotiate with alternative realities as they fight for what they love.
Read my review of The Infinite Lives of Maisie Day
Buy The Infinite Lives of Maisie Day
And of course, can I ever stop at just 10? As usual, I cheat. Here are four more that I'm just going to throw into the list: