Doesn't the title just grab your attention?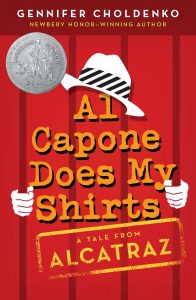 The edition of Al Capone Does My Shirts that I picked up begins with a letter from the author Gennifer Choldenko, where she talks about having set out to write a book for boys. And somehow, Natalie, an autistic sixteen-year-old, slipped into the story, making it far more steeped in emotion than she had intended. And yes, boys did like it too. Boys do also like emotional stories, given a chance.
The story of a family on Alcatraz, Al Capone Does My Shirts is a unique tale told from the point of view of Moose, a boy with a specially-abled sister. Adding to the layered narrative is the fact that autism has not yet got its name – the novel is set around 1935 – so Natalie goes from one school to another, trying out treatment after treatment.
A sensitive, beautiful portrayal of family relationships, Al Capone Does My Shirts moved me and made me smile. How can a boy with an autistic sister fit in with all the other boys? How is it fair that whenever he wants to play baseball, he needs to babysit his sister, who is actually older than he is?
Moose takes his sister along when he hunts for a convicts' ball for a friend. He defies his mother by giving Natalie the buttons that keep her calm. He wants his parents' attention, even though he knows why Natalie becomes the focal point of the family. With characters that are nuanced and believable, the story comes alive before the reader's eyes.
| | |
| --- | --- |
| Title | Al Capone Does My Shirts |
| Author | Gennifer Choldenko |
| Genre | Historical Fiction |
| Rating (out of 5) | 4 |
| Age-group | 11+ |