All of us know stories of the Holocaust. Recently, I read something on social media that claimed that The Diary of a Young Girl is among the ten most widely read books in the world. Don't get me wrong; stories of the Holocaust are crucial. They teach us lessons that are horrifyingly relevant today.
Yet, when we read stories about Germany, Hitler and the Jews to the exclusion of stories of horrors that have occurred – and continue to occur – in other parts of the world, we feed into the age-old problem of Eurocentricism. We need other stories so that we don't think of the Holocaust as one terrible period in history, which is over and done with.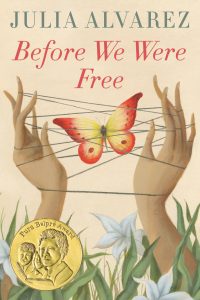 Before We Were Free is the story of a child living under a dictator in the Dominican Republic. Twelve-year-old Anita does not believe that she is not free. What does that even mean? She lives with her extended family and though there are rules she has to follow – like not falling in love with a boy until she is old enough – surely, that does not mean that she is not free.
Cousins and friends leave suddenly for the United States, but that is normal, as far as Anita is concerned. It happens all the time. Does that mean she is not free?
Whispers slowly reach her ears, though, and her eyes begin to open. She sees her mother typing out documents that look like declarations of rights. And her father and uncles seem to be involved in a conspiracy that is first horrifying and then terrifying.
I took a while to get into the story, but the very slowness of the narrative became one of the things I later cherished about the story. That is how political trouble is. It brews and ferments. It happens around you without you noticing it. And if you ignore it, it gushes over you, overwhelming and all-powerful.
| | |
| --- | --- |
| Title | Before We Were Free |
| Author | Julia Alvarez |
| Genre | Historical Fiction |
| Rating (out of 5) | 4 |
| Age-group | 11+ |