Recently, I revisited a review of a book I loved – My Name is Rose. The book made a particularly powerful impression on me because the lead character cannot speak, not because she is mute, but because of the weight of the world on her shoulders.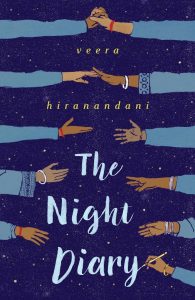 Nisha from The Night Diary is a character just like that. Already overcome by crippling shyness and enormous social inhibitions, life does not do Nisha any favours. There are only two people in the world Nisha feels comfortable talking to – her twin Amil, and their domestic help who is practically family, Kazi.
To top it all, it is the year 1947 and everything is beginning to change. Nisha, all of 12, is puzzled by how swiftly things seem to fall apart. India, still under British rule, is growing more and more polarised, and she finds that the way she looks at people is beginning to alter. As the weeks go by and she hears whispers of 'Jinnah' and 'Gandhi' and 'Nehru' around her, she begins to notice people as Sikhs, Muslims and Hindus.
But where do Amil and she fall? Their father, who is alive, is Hindu. Their mother, who died giving birth to them, was Muslim. Does that make them more Hindu than Muslim? Strangely, the answer is 'yes', and the family must become part of the greatest mass migration in history. They must move from Pakistan to India.
Though slow in parts, The Night Diary is a beautiful read. Partition is cultural baggage that so many Indians and Pakistanis carry, and to see it through letters from a half-Hindu, half-Muslim child to her dead mother was a poignant way to revisit it. More than once, my heart ached as the crumbling world around Nisha and Amil came alive to me through her night diary.
We need stories like this, stories that talk of the arbitrariness of borders and the bewilderment of children when confronted with categorisation. The puzzlement of the children rings true – why can't they belong to both India and Pakistan, instead of feeling that they belong to neither?
| | |
| --- | --- |
| Title | The Night Diary |
| Author | Veera Hiranandani |
| Genre | Historical Fiction |
| Rating (out of 5) | 4 |
| Age-group | 11+ |