Calling all the books that I've listed here 'chapter books' is perhaps unfair. Some are quite a bit longer than others. I'm uncomfortable defining books on the basis of age too, as reading levels differ widely even within one school, let alone across schools, areas and countries. I think, broadly, this list comprises books that I enjoyed reading as an adult and would probably have loved when I was eight or nine.
Me and Mister P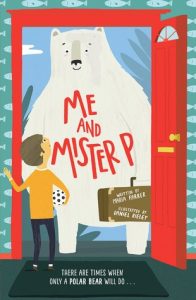 Writer: Maria Farrer
Illustrator: Daniel Rieley
Publisher: Oxford University Press
What can I say about the delightful Mister P? Though I read Me and Mister P almost a year ago, it is one of those timeless books that stay with you, a classic.
When Arthur discovers a polar bear at his doorstep, the warmest of friendships begins to blossom. Mister P does not say a word, but something special is born out of those wonderful bear hugs and the "person" that Mister P is.
Read my review of Me and Mister P
Buy Me and Mister P
Making Millions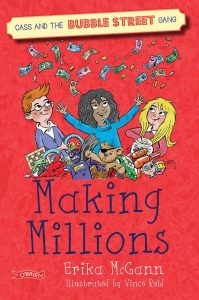 Writer: Erika McGann
Publisher: The O'Brien Press
I chuckle as I think about this warm, funny book. I love stories of friendship! The protagonist Cass is a joyous character, and her attitude towards her friends is heart-warming. If her best friend wants something, whether she thinks is something desirable or not, Cass makes it her mission to make it happen. The Bubble Street Gang know that nothing is impossible, and the sheer optimism of the book speaks to me of everything that is lovely about childhood.
Read my review of Making Millions
Buy Making Millions
Moin and the Monster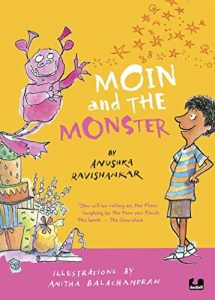 Writer: Anushka Ravishankar
Illustrator: Anitha Balachandran
Publisher: Duckbill
There are so many things to love about this book! The unusual monster, the way in which it comes into being, how Moin deals with it … Moin and the Monster is a deliciously funny story, in which Moin is stuck with a monster that spouts monster rules all the time, including the rule that the monster must stay with the human who gives it shape. Moin, it seems, is stuck with a monster who loves to sing but cannot carry a tune, a monster who eats dozens of bananas, a monster who cannot quite stay secret …
Read my review of Moin and the Monster
Buy Moin and the Monster
The Mumbelievable Challenge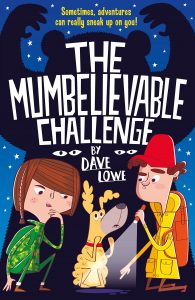 Writer: Dave Lowe
Publisher: Piccadilly Press
What is the mumbelievable challenge? Something that leads to a dadventure!
Reading descriptions of The Mumbelievable Challenge, I would not imagine enjoying it. It sounds preachy. Mum sets a challenge Holly: spend five screen-free days. It starts off as boring, but Holly finally enjoys herself. This has the makings of the kind of story I often dislike – one with a clear moral. Yet, I enjoyed the story enough for it to wind up as one of my favourite books of the year! Doesn't that say a lot already?
Read my review of The Mumbelievable Challenge
Buy The Mumbelievable Challenge
Wildfire (Wildwitch #1)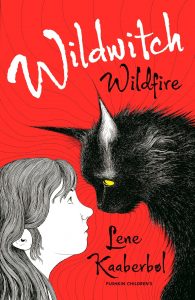 Writer: Lene Kaaberbøl
Translator: Charlotte Barslund
Illustrator: Rohan Eason
Publisher: Pushkin Children's
This book was such a wonderful discovery! I haven't yet managed to find the others in the series, but Wildfire was an unputdownable book, a mixture of something ancient and something modern. Little Clara Mouse is a lovely character and the way the events unfold is beautiful. Above all, I loved the way the story was told, and realised yet again the need for more translated books. I want to read more!
Read my review of Wildfire
Buy Wildfire
The 13-Storey Treehouse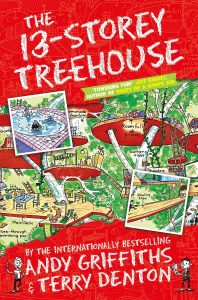 Writer: Andy Griffiths
Illustrator: Terry Denton
Publisher: Macmillan Children's Books
This book came highly recommended by many children, and I was pleasantly surprised by how much I enjoyed it. A crazy story, full of impossibilities, I enjoyed how easy it was to read and how much fun I had as I turned page after page.
Andy and Terry are characters in their own story, seeking to write a book – which turns out to be this one. It takes a while to get the story on paper, though, because too many things come in the way. But the publisher is waiting …
Read my review of The 13-Storey Treehouse
Buy The 13-Storey Treehouse
Radhika Takes the Plunge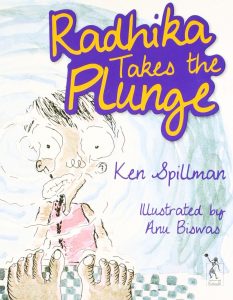 Writer: Ken Spillman
Illustrator: Anu Biswas
Publisher: Young Zubaan
All Radhika's friends in Australia seem to be part fish: they are that comfortable being in water. Radhika alone cannot swim–because her over-protective mother does not let her. When Radhika finally gets her way and takes the plunge, things don't turn out quite as expected.
A simple, sweet story, I liked the way it was told and how the characters developed.
Read my review of Radhika Takes the Plunge
Buy Radhika Takes the Plunge
Amra and the Witch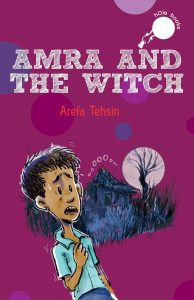 Writer: Arefa Tehsin
Illustrator: Chetan Sharma
Publisher: Duckbill
The writing style and the pictures in this lovely book go perfectly together. When things go horribly wrong for Amra, he must visit the witch and find out what is happening. But before that, he has a whole day at school, and it certainly doesn't seem to be one of the better days of his life …
Read my review of Amra and the Witch (and a few others)
Buy Amra and the Witch
A Tigress Called Machhli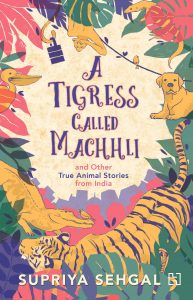 Writer: Supriya Sehgal
Publisher: Hachette India
I began this post with a disclaimer – that not all these books are chapter books. A Tigress Called Machhli definitely isn't. The only work of non-fiction on this list, I enjoyed the book because of the variety and simplicity of the stories. Quirky, unusual and never judgmental, the tales in this collection are quick, fun reads.
Read my review of A Tigress Called Machhli
Buy A Tigress Called Machhli
The Little Rainmaker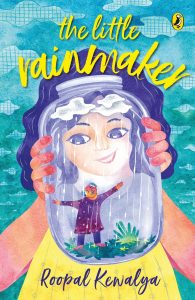 Writer: Roopal Kewalya
Publisher: Puffin
In a dystopian world that seems all too real, rain is something that is part of history and stories. But Anoushqa's grandfather hopes to see rain one last time, and the young girl is determined to make it happen. Even though she is not entirely convinced that rain is a real thing, and not a figment of her grandfather's imagination, the ten-year-old girl decides to do the impossible. She decides to make it rain.
Read my review of The Little Rainmaker
Buy The Little Rainmaker
How can I stop at ten? I'm going to add a couple of bonus books, simply because I could not leave them out – Ghost in the House (Magic Pony #2) and The Dreaded Noodle-Doodles (You, Me and Thing #2).
Go have a look!