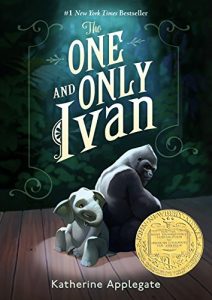 I just went onto Goodreads and saw that The One and Only Ivan has over 110,000 reviews. I'm not surprised, though. It's exactly that kind of book, the kind that makes you want to tell everyone about it. It's achingly sweet: a lovely story that leaves you sad, happy and everything else in between. Things aren't perfect, but somehow, in the only possible way given the circumstances, amends have been made.
Ivan is a gorilla who deludes himself into believing that the glass cage in which he lives is his domain. He is a silverback, the leader of his troop.
Except that in his new domain – with a tyre swing and paintings of nature – there are no other gorillas. Instead, next door, he has Stella the elephant, who has a sore foot, a remnant of her time in a circus. She does tricks to entertain human visitors.
Ivan, who watches TV and draws, never gets his hopes up too high. He has learnt not to. But when a baby elephant is brought in, he remembers what it is to be angry. And an angry gorilla is a dangerous one.
The One and Only Ivan is perfect in so many ways. It's told from the point of view of Ivan, and the form and narrative voice reduce the story to a kind of beautiful simplicity. Through short chapters with clear, short sentences, Ivan tells his story. He talks of how Stella remembers and he, a gorilla, forgets. Yet, the day comes when he must remember. He must remember what things used to be like, and he must see things for what they are. The mall in which he lives, where people come and gawk at him, is not a domain. It is a cage. He can live in a cage, but little Ruby deserves more. A silverback must have someone to protect, and Ruby becomes that someone.