At the age of six, Varsha discovered that she could write. She couldn't write just sentences; she could make up stories about mice turning into fairies and pixies that could make their cars run by themselves. At seven, she wrote a story about a witch who hated plants, and won the first pri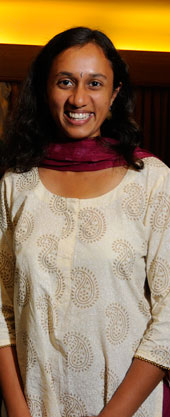 ze in a story-writing competition. And then, she just didn't stop writing.
Through childhood, Varsha won several writing competitions organised by newspapers and magazines. The first chapter of a book she wrote when she was thirteen was among eight short-listed in a competition organised by Oxford Bookstore called E-Author Version 2.0. Her writing has come a long way since then, with over twenty stories for children published in Junior Herald, the children's section of the Pune-based Maharashtra Herald. At the same time, she contributed to a weekly column on myths from all over the world and coordinated and wrote for Campus Herald, the college page of the same newspaper.
Varsha's first major publication was in July 2010. Her story The Nationals was one of twelve in an anthology for children titled Let's Play! The Puffin Book of Sports Stories. In April 2012, Happy Squirrel (an imprint of Leadstart Publishing Pvt. Ltd.) published a collection of her short stories titled The Story-Catcher.
Now, she is busy writing a series of stories in association with the National Rail Museum. Many of them are now available on Amazon; more are on the way!
A writer, dancer and teacher, Varsha completed her Masters in English Literature from Jadavpur University, Kolkata, winning two medals for Shakespeare studies. She has a passion for Bharatanatyam, and has been studying and practising this traditional Indian dance for over 20 years. She has performed in India and abroad – and now teaches it too.