Rs. 500
Publisher:

TC67 Simulation Systems and Services LLP

Editor:

Bipin Chobhe

Available in:

Paperback

ISBN:

978-81-933605-5-2
Buy The Duronto Adventure
Buy The Duronto Adventure Craft Kit
Chitra, Rohit, Priya and Deven are travelling by themselves for the first time. They are excited about their newfound independence, but little do they know that their journey is going to be even more adventurous than they imagine! When the train stops at Igatpuri and Rohit goes missing, Priya panics. Yet, this is only the beginning of a crazy ride …
Reviews
Maya Saran (9 years)
I loved the book… it is so nicely written. The idea of kids traveling separately from the parents and the fun they had was very good. I liked that there were few pictures – so I was able to imagine things. If there are lots of pictures, I see them only and cannot use my own imagination! But I hate the title – it doesn't do justice to the book.
Ira Malaviya
I thoroughly enjoyed the book. I look forward to reading the sequel! I found the book very interesting and would love to read more books written by you.
Spoiler alert: The following reviews contain spoilers!
Aditi Timothy (Class IV)
I don't like trains a lot, but started to read it just for you. But I couldn't put the book down after reading the introduction!
I enjoyed reading the book as its plot was so interesting and you have set it in India with so may Indian names!
I loved the characters, especially Chitra because she was so lively and sweet. Driving the train was a good decision that the kids took. It was fun and felt adventurous reading that part! I also like the fact that you could put so much information on trains in such an interesting story.
And now I feel I should take a train journey very soon and I think I have started to like trains!
Ananya Nanda (Grade V)
I loved the book. It was really interesting and fun to read. I learnt a lot of things about trains especially where the train stops between Bombay to Kolkata, where the banker engine is attached and detached etc. I also learnt about Engines. I also liked the part where Varun uncle was missing and when the kids went to the police because Mrs Das thought that Priya stole her necklace.
Craft Kit
Every book in this series is also available as part of a craft kit. In The Duronto Adventure craft kit, you can make your own cardboard model of an electric locomotive.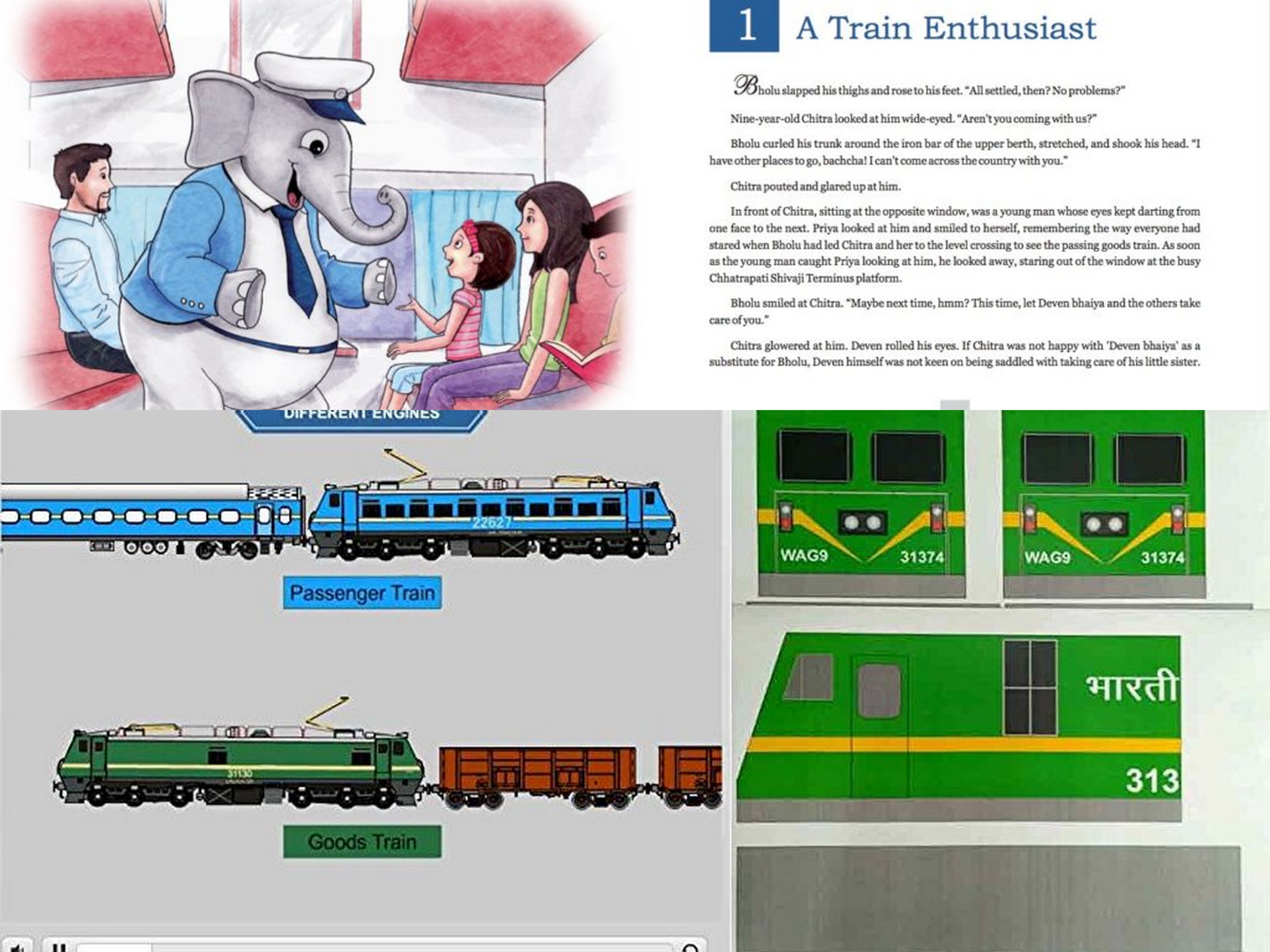 Related