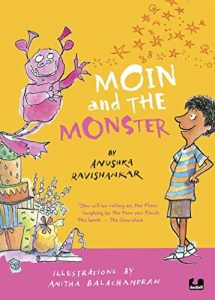 Moin and the Monster has been on my list of books to read for a long time, and I finally got around to reading it mainly because of the essay I did for The Curious Reader on "The Problem With Monster Stereotypes In Literature". Of course, it was impossible to read every book on monsters for a 1000-word essay, but finally, I had the perfect reason to put everything aside and read this one.
It was excellent: deliciously funny and wholly unusual. I chuckled at Moin's uneasy relationship with a monster that is full of rules that it spouts all the time. Moin is, unfortunately, stuck with this monster who loves to sing, for one of the rules states that a monster must stay with the human who gives it shape by drawing it.
From joining singing class so that he can justify the constant singing from his room to trying to explain away the disappearance of hundreds of bananas, Moin finds himself becoming more and more enterprising so that the monster remains a secret from his parents. With each page, the story becomes steadily more hilarious until finally, when I finished, I had another book on my list of books to read – Moin and the Monster Songster!