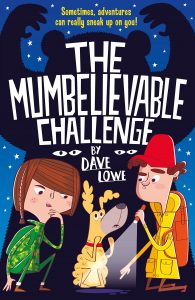 Isn't the name itself delightful? Mumbelievable is such a fun word!
The Mumbelievable Challenge, true to its name is a lovely read. It's one of those rare books that is part of a series but does not require you to read the first one first! In fact, I didn't even know that this was the second Dadventure (another fun word) until I started writing this post.
Mum has a challenge for Holly and her dad – a screen-free five days in a log cabin. Not only does Holly have to live without access to any kind of screen, but she also finds that her mum has set a challenge for her to complete each day. What starts off as a drag ends up being fun and even exciting, especially when Holly meets Zeb, who is camping in the forest with his dad. The best thing of all is that Holly finds that Zeb is as embarrassed by his father as she is by hers.
Zeb becomes part of the challenge too and together, they wade into a stream, make an origami boat, examine poop, and hide from a bear. When it's time to go back, Holly realises with surprise that her five days away from technology were fun after all.