Wildwitch Wildfire. The name seems to hark back to an earlier time, a time when magic was different, ancient, unknown.
Yet, the cover, with its bright red, and a cat staring a girl down gave me the idea of something almost modern. I picked it up, curious about what it would offer–and put it down when I had finished reading it.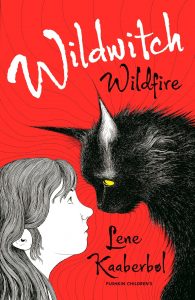 Wildwitch Wildfire won me over with the wonder of its storytelling. A beautiful story, simply told – is there anything more fulfilling than that?
Clara Ash is mauled by a huge cat on her way to school, but that's hardly an excuse she can offer her scary math teacher for being late. With an incident that simple, the story begins.
Clara's mum never cries, but when she hears about the cat, she begins to cry. It is time for Clara, little Clara Mouse, to visit her Aunt Isa, a wildwitch. For Clara is a wildwitch herself and needs to learn how to survive.
A frightening creature with huge wings wants Clara and will stop at nothing to get her hands on her. Clara needs to rely on friends she doesn't know she has to get through a trial that tests skills that she doesn't know she possesses.
Wildwitch Wildfire is a story of friendships of various kinds – a girl and a boy, a girl and a cat, two girls … And magic. There's wild, old magic on every page.
It is such a charming story that I'm glad it's book one – I want very much to read the others!
Title
Wildwitch Wildfire
Author
Translator
Lene Kaaberbøl
Charlotte Barslund
Genre
Fantasy
Rating (out of 5)
4.5
Age-group
9+