Have you ever read a book that was not at all "your" kind of book, but you ended up enjoying it anyway? The 13-Storey Treehouse was exactly that, for me. It was a gentle reminder that I never know what my "kind" of book is until I read it.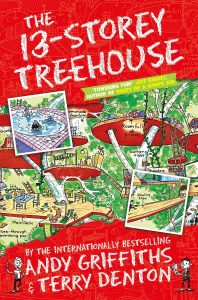 Why was it not my kind of book?
Two reasons immediately come to mind.
One, I don't like books with so many pictures unless they're picture books.
Two, I often don't like the kind of humour we find in The 13-Storey Treehouse.
Why did I pick it up?
One huge reason: children love it. When I conducted workshops for the British Council's Big Friendly Read Reading Challenge, everyone's favourite book was The 13-Storey Treehouse. This was several years ago, but the number of children who said it was the best book in the collection made me remember the title and look out for it.
Even when I picked it up, I wondered if I would actually end up reading the whole thing. Would it just be something I just put myself through so that I knew what children were talking about when they said they loved the book?
The answer was no.
Why did I end up liking it?
Even as I type that question, I smile. The book was funny, mad, quirky–find a word in that category, and you can apply it to The 13-Storey Treehouse. First of all, I loved the meta-narrative. Andy and Terry (yes, the writer and illustrator of the book) have a book to write, and they have to submit it to their publisher by 5 pm the following day, OR ELSE.
The problem is that Terry's to-do list is endless. And his to-don't list is even longer.
Also, living in a 13-storey treehouse, a lot of things come in the way – including sea monkeys, a sea monster, a catnary (no, that's not a typo – it's a bright yellow cat that can fly), a gorilla … I've missed about a hundred other things.
The story just slipped by as I turned page after page, chuckling continually at the sheer ridiculousness and fun of the ideas.
And when I finished, I was glad that The 13-Storey Treehouse is not a standalone book; I want to read the others!