I couldn't wait any longer. I just had to write about at least some of the books I've been reading. Last night, I sat and reread Harry Potter and the Deathly Hallows. It's not my favourite, but then, it's Harry Potter, probably the only series of books I've ever stayed up reading. I even took part in a midnight treasure-hunt at a bookstore the day the seventh Harry Potter book was to be released. It pushed me to write today about all these other books I'm reading, books that aren't nearly as famous.
The good part about reviewing books long after you've read them is that you have a little more perspective. You know which books stay with you and which ones just get lost along the way.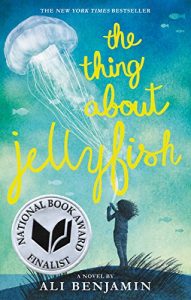 The Thing about Jellyfish stayed with me. And I think the best thing about the book – without giving anything away – is that it ends perfectly.
When Franny dies, her best friend Suzy stops talking. Particularly in the face of tragedy, small talk has no meaning. Superficial friendships and the drama around grief are utterly pointless. Suzy needs to find her own way of dealing with grief, and the guilt that goes with it. She cannot just accept the time-worn notion of things just happening. She needs answers because only when she can prove exactly how Franny died can she come to terms with everything she feels. And so, until she can do that, she lives in her own silent world. It is a lonely world, and there are only a handful of people who can actually hold her hand and pull her out.
I almost didn't read Fire Colour One for the foolishest of reasons. It's a library book and it was due, so I had to return it … But I renewed it, and I'm glad I did.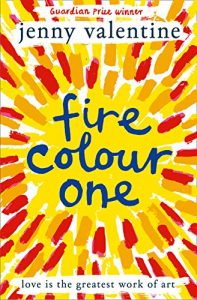 All Iris knows about her father Ernest is what her mother Hannah has told her. Ernest left them when she was a baby; that's all she knows. But now, Hannah and her boyfriend Lowell are out of money and have run out of credit on their cards. Ernest, on his deathbed, is a millionaire. If Hannah returns to him, she can lay her hands on a pretty fortune if she plays her cards right. As Iris puts it, Hannah wants to go fishing, and Iris is the bait.
When the truth emerges, Iris discovers all the lies her mother has told her. She grows closer to her father, which can make Hannah's plans go awry.
But Iris has a secret that Hannah can use as a weapon if Ernest seems to be getting too close to Iris. Slowly, a complex web of emotions, secrets and deception begins to unravel. Iris begins to realise how much of her life has been a lie, but with a best friend like Thurston and a father like Ernest, things get more and more exciting …
I loved the book. I loved its twists and turns and the complexity of the characters. I can't believe I almost didn't read it!
| | |
| --- | --- |
| Title | Fire Colour One |
| Author | Jenny Valentine |
| Genre | YA |
| Rating (out of 5) | 5 |
| Age-group | 12+ |
I've read several books by Julia Golding, and liked them all. I remember Dragonfly, which I enjoyed thoroughly and later bought. I then read and loved The Glass Swallow, which I think I never ended up reviewing. I read Girl on the Run when I was travelling and could barely concentrate on the world around me. I keep looking out for the other books in the series, but haven't yet found any.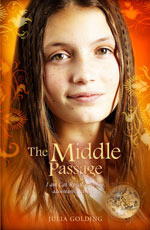 Then, Cat's Cradle introduced me to one of my favourite heroines – Cat Royal. Once more, I began my search for more books featuring Cat. When I found The Middle Passage, which was free to read on Kindle, how could I resist?
Cat is among the feistiest heroines I have ever encountered. If you get into a fight with her, you'll emerge with a black eye. She's not one to sit quietly and listen. She's much more likely to spring into action. I love just how independent she is, how clear and how enterprising. The Middle Passage is a very short read, but delightful all the same, and it left me longing for more!
| | |
| --- | --- |
| Title | The Middle Passage |
| Author | Julia Golding |
| Genre | Historical Fiction |
| Rating (out of 5) | 4 |
| Age-group | 11+ |