I was nervous about doing a cycling tour. Everyone we spoke to, from hotel receptionists to travel agents, said that it would be 'mostly downhill'. To me, that was a euphemistic way of saying there would be some rough uphill stretches. I don't cycle regularly. Riding 25 km all of a sudden? I wasn't sure if I was up to it.
But the cycling tour turned out to be my top experience in Bali.
Sure, there were parts when I fell back, particularly when we went off the main road and onto little mud tracks. I've never ridden a geared bike before, and I certainly hadn't ever ridden a bike that picks up speed so fast. In the beginning, even on the tar road, a voice in my head screamed, Too fast, too fast, too fast. And used as I am to riding my Activa, I was afraid of skidding, afraid of wet mud … and thrilled to be riding through it all.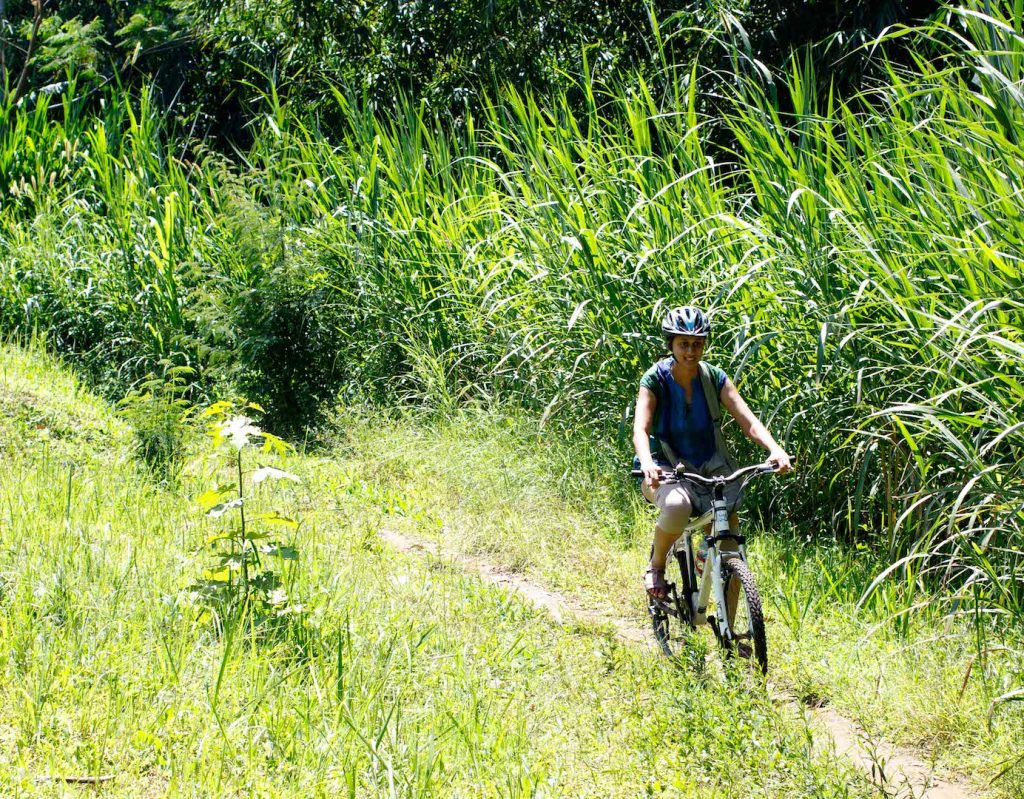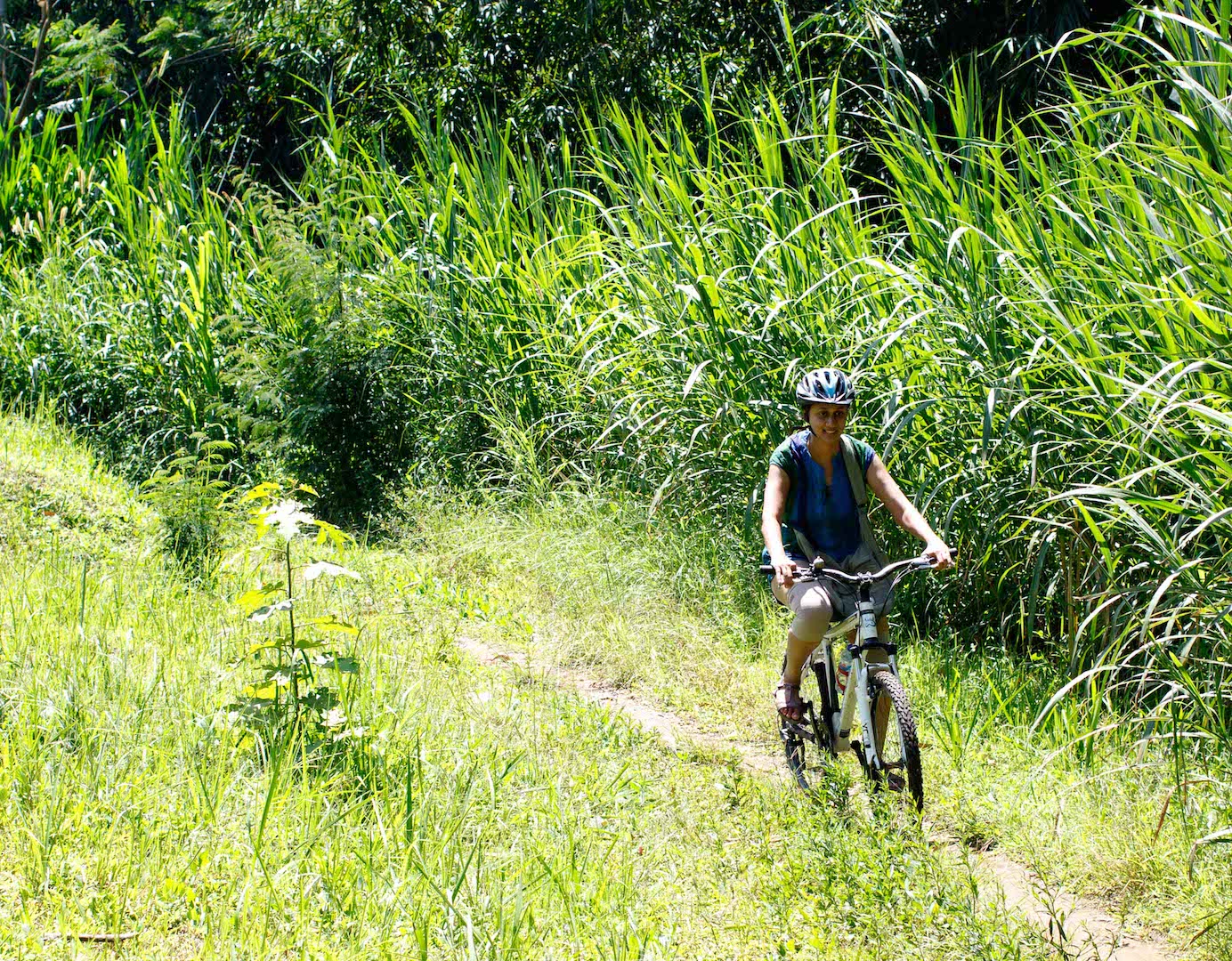 I'll write about the cycling tour in little bits and pieces because I'm not very fond of long blog posts, but here's the gist of it. We went with an agency called Green Bike. There were five of us in the group – Nisha, Karan and me, plus two Dutch people whom we didn't know. We were driven all the way up to a coffee plantation, then we began our ride. Marigold field, a Balinese home, the oldest temple in Bali, a ride through Taroh (a village of stone-carvers), stopping in the middle of a paddy field … It was incredible.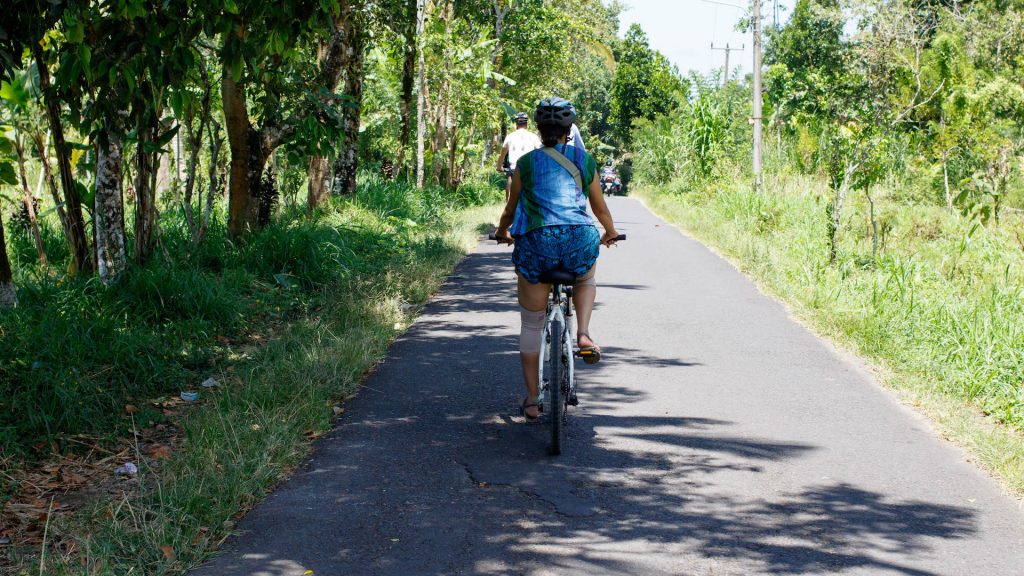 We were picked up first, and then the two Dutch guys. Both of them were 6'8″ tall, and it was only when we stood together for a photograph that I realised just how tall that meant they were. I'm not short by any stretch of the imagination, but I felt tiny!
"I feel like a dwarf," I said.
"And I feel like a giant," responded one of them.
I paused a bit and then said, "Where I come from, I'm considered tall. Just saying."
They looked down at me incredulously. "Really?"
They talked about how they could easily find each other in a crowd, particularly one comprising short people.
"Yet, at home, I'm just average height," said one. "If I'm with my nephews, I'm the shortest."
I looked at him. "Maybe I wouldn't quite go with 'shortest'. Least tall? Okay."
And the ice was broken. The cycling tour was fun!