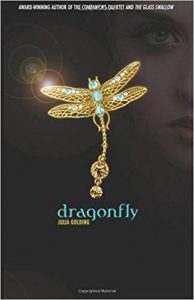 Some pacy books are formulaic, and this one is one of them.
Prince must marry Princess – it's a political alliance. Prince and Princess hate each other; they have all kinds of adventures; then they love each other; then they get married.
This fits in exactly.
Yet, Dragonfly warmed me. There are some books that, like Disney movies, touch you even if you can tell, scene by scene, what's going to happen.
Tashi, the young princess, grows to be a person, not a white painted princess. The idea of romance across cultures is amusing, inviting and heart-warming.
Yet, one idea in the book that truly startled me was the realisation of how easy it is for a young girl (princess or otherwise) to feel guilty when she does not return a suitor's love. That, I think, is what made my eyes widen. Not the love story, not the elaborate courtship, none of it. Yet, when Tashi wants to reject Merl, but somehow feels guilty doing it . . . I realise that there's so much that rings true across cultures.
| | |
| --- | --- |
| Title | Dragonfly |
| Author | Julia Golding |
| Genre | Fantasy |
| Rating (out of 5) | 4 |
| Age-group | 12+ |