I sat at Coimbatore train station, book in hand.
"What happened?" asked my sister, looking at my face.
I grinned. "I'm inside this book." I added, quickly, "Will you keep a lookout for the train? I may not notice when it pulls in."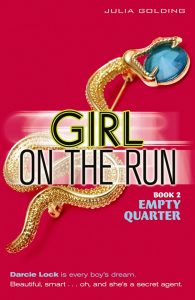 That's how Empty Quarter was.
As with Cat's Cradle, I jumped straight into the series without reading the first book. It was simply wonderful. What impressed me most of all is how rounded each character is. Christopher Lock is the perfect combination of grandfather and career-obsessed, calculating official. I love Darcie Lock, her stupidities and her beauty.
Empty Quarter is the perfect combination of humour, anticipation and excitement. Reading it, I realised how effortlessly the story moves from up to down to up to down, pulling the reader through all the twists and turns in the plot. The confused mixture of child and adult in fourteen-year-old Darcie Lock rings true at each turn of the page. I read and read and read until I had finished. And only then could I breathe.
A warning for those who read the same edition as I: don't judge the book by what it says on the cover. On the front, my edition says, Darcie Lock is every boy's dream. Beautiful, smart … oh, and she's a secret agent. At the back, it says, The perfect action thriller for girls who don't want to let boys have all the fun.
Both these reduce the book to something rather strange. Empty Quarter is nothing like that.