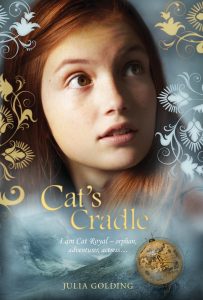 Sometimes, especially when you read a lot of different kinds of books that you've picked up based solely on the cover, one book jumps out and takes you by surprise. It makes you read on and on, and it makes you chuckle even when you are in a public place and ought to be behaving decorously.
Cat's Cradle was exactly like that. I shouted with laughter, giggled and grinned. I was drawn into the story of Cat and her search for her family, even though this is the sixth book in the series, and I have not read any of the others.
I've read The Glass Swallow (which I enjoyed thoroughly) and Dragonfly (which I quite enjoyed), and I picked up Cat's Cradle a little sceptically because it is not the first of the series, and because I was not sure if it would be my kind of book. It was.
Cat Royal – orphan, adventuress, actress – is a sparkling character, leaping out of the pages and into my imagination. I can see her, less than five feet tall, full of mischief and impulsiveness. Cat's Cradle was a lovely name, too, tracing the unknown family into which Cat was born  back to a machine town in Scotland, where the weaving machines form patterns like a game of cat's cradle.
Now I'm waiting to read the rest of the series!
| | |
| --- | --- |
| Title | Cat's Cradle |
| Author | Julia Golding |
| Genre | Historical Fiction |
| Rating (out of 5) | 5 |
| Age-group | 12+ |