Just thinking about Tilly and the Time Machine makes me chuckle, even though I finished reading it a couple of days ago. It's been a while since I read such a lovely book written for seven-year-olds.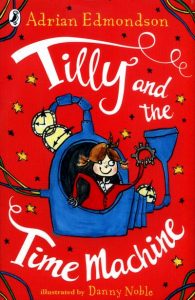 Tilly's father is a scientist who works for the government. Unfortunately, it seems as if his work is below expectations, so they have to let him go.
The way Tilly sees it, letting him go seems to be a good thing. He has more time at home, he doesn't have to go to work, and Tilly can do lots of fun stuff with him (like jumping out of her window for him to catch her) – particularly important because Tilly's mother died not so long ago.
When Tilly's father invents a time machine, of course Tilly knows how far back she wants to go. Sure, she is supposed to be presenting the Victorian age in her school project, but the Victorian age pales in comparison with what Tilly has in mind. She wants to go back to her sixth birthday, a time when her mother was alive and happy.
When the time machine malfunctions, an adventure begins. Tilly's father disappears, but manages to leave clues for Tilly to help him come back. The enterprising young girl does one thing after another to trace her father, chasing him across centuries, all the way back to the modern world.
Tilly is a character I love, right up there with all the best seven-year-olds in literature. I'm thinking here of Sophie, for instance, in Dick King-Smith's stories. I also cannot remember how old Emily is when she goes to New Moon in L.M. Montgomery's series, but she comes to mind too. Tilly is one of those classic lovable characters in a delightful book for young readers.