Have you ever thought of Cinderella from the point of view of the mouse? No, not one of the sweet singing mice in Disney's version. Instead, from the point of view of a hapless mouse who becomes a steed for one night. What happens to the mouse after Cinderella gets her 'happily ever after'? Does the mouse get its own happily ever after?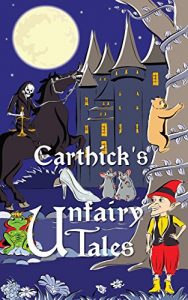 Carthick's Unfairy Tales had me chuckling more than once. Full of wit, with surprises lurking at every corner, each story was thoroughly enjoyable.
Yes, I did get annoyed in places because of Indianisms that, for me, jarred with the retelling of European fairy tales. Even so, the book was so much fun that I kept reading, curious to know what would happen next and what new turn a well-known story would take.
From "Goldilocks" to "Jack and the Beanstalk", Carthick twists seven familiar tales into new stories that resonate with anyone who has read fairy tales and remarked on how singularly unfair they are. And as I read, I marvelled at the cleverness with which the tales were woven. Why do we read such terrible tales to children? Carthick's version of "The Frog Prince" was probably my favourite. It reminded me of Grimm's grim version, even though it had a completely different kind of grimness!
I do usually put in an age-group, but fairy tales confuse me. Is a child really (ever) old enough to read stories where a witch wants to boil and eat children? If a child reads fairy tales, perhaps s/he could read this, though the language may involve a bit of an effort!