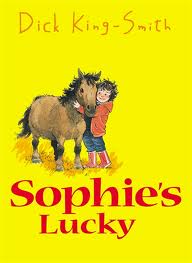 The perfect children's book is not one that you read and say, "Oh, I would have loved it so much if I had read it when I was seven!"
The perfect children's book is one that you read and say, "What a truly delightful book!"
And that's what I feel when I read Sophie's Lucky, or, in fact, practically everything I've read by Dick King-Smith (except one, to tell the truth).
I love what he makes me feel. I love that warm sense of belonging, of animal love, of regular daily happiness. I remember being thrilled with The Sheep-Pig and thoroughly enjoying Ace. I loved How Green Was My Mouse and so many others – so many that I've lost count.
Sophie in this series is such a lovely girl! I love the kinds of words Dick King-Smith continually uses for her; I love how she thinks coming down from Scotland has to be downhill all the way because, very clearly, it's downwards on the map!
I know that this is one writer I'll read over and over again, without ever tiring of him!