"The circus has come to Pune!"
"Yes, and it can fly!"
"Yes, and there are gymnasts jumping from the ceiling!"
"Yes, and there is a flying unicorn!"
"Yes, and there are singing koalas!"
"Yes, and the tiger can bark!"
"Yes, and the dogs are miaowing!"
I love playing 'Yes, and …' with children. They are just so imaginative. We created a crazy circus together, full of dancing dragonflies, flying kangaroos and a robot or two thrown in.
With the older children, we spoke about animal rights and bullying, with one group presenting a very balanced idea of the circus – as entertainment, as a home for strays, and as a nightmare for wild animals.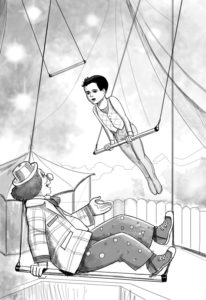 I ended with a story from The Story-Catcher, "The Circus Boy", which led to a lovely conversation about child labour and bullying.
"How many of you have never been bullied?" I asked.
Not one child raised a hand.
"How many of you can honestly say you've never bullied anyone?" I asked.
One child raised a hand and then slowly put it down again.
When you deliberately exclude someone from a group, it's bullying, they realised. I loved this telling of "The Circus Boy". It brought so much wonderful conversation in!