Dreaming the Bear reminded me, in some ways, of White Dolphin. I loved it and I hated it. Because the story took the turn it had to take, and what 'should' happen did. Read the story to figure out what I mean.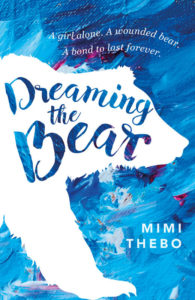 An intriguing story, Dreaming the Bear took me into minds that are distant from me. The narrative voice shifted and floated – there's no other word I can find for it. It was this floating that I enjoyed, where Darcy, who has just recovered from pneumonia feels as if she is floating out of her body, looking at things from a distance.
Books about animals, when written well, wring my heart.
(As a child, that is what made me think that I would like to be a vet – and then I discovered that I would have to study biology to do that. Loving animal stories would not be enough!)
Dreaming the Bear is a uniquely told story, which did just that. It made my heart ache more than once. It made me long to reach into the book and be part of it all. I usually divide books I love into character-driven stories and plot-driven stories. In some ways, this was neither. Darcy as a character didn't pull me in; her story did.
| | |
| --- | --- |
| Title | Dreaming the Bear |
| Author | Mimi Thebo |
| Genre | Middle Grade Fiction |
| Rating (out of 5) | 4 |
| Age-group | 12+ |