Who does not like animal stories? As a child, I wanted to be an environmentalist and a vet. The problem was that I was afraid of biology and dissection, so I contented myself with animal stories, knowing no other option.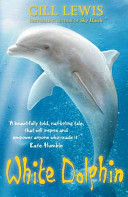 Gill Lewis's White Dolphin filled my heart. It was a story that jumped out of the pages and touched me despite the fact that I knew nothing about the particular problems it addressed.
White Dolphin is a story of humane humans and their attempts to be what human beings should be – kind, brave and generous. Questions remain unanswered even at the end of the book, but there is no feeling of dissatisfaction there. Because life is like that. There are no clues leading to all the most beautifully crafted answers. Sometimes, you have to move away from the question to reach another, more important question.
During my last workshop, we spoke about how lovely stories are not soppy. They may teach you something, but the 'moral of the story' does not come and write itself in black on white. White Dolphin is like that. It is real.