Anyone who has ever performed knows about the adrenalin rush, the energy, the feeling of having achieved something. But more than all of these, I think performances are fun because they're full of stories.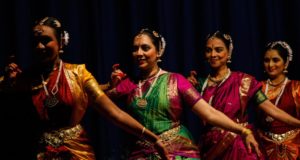 Some are dramatic stories that we tell and retell, like when we performed in Chidambaram, and the time when Nisha and I entered from the wrong side when we performed in Aix. Sometimes, though, they're small stories that we store somewhere inside us, and share when we finish the programme, but slowly forget.
Last Friday, we performed for Dignity Foundation with my teacher. It was not dramatic, and I'm thankful for that. It did promise to be, though – more than once.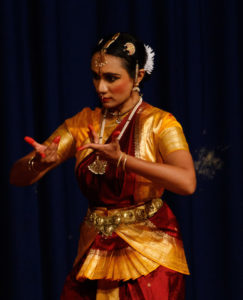 The lights kept going during the previous performances, and my teacher prayed right through, the way she does when we're performing Pinnal Kolattam!
Narasimha forgot to come on stage. I was Hiranyakashipu, imagining all kinds of things as I asked Prahlad to show me where Vishnu was. Did she fall? Was it too dark for her to come? My mind went crazy as I wondered what to do.
Thankfully, someone reminded her. Vishnu, as promised, appeared in time to destroy Hiranyakashipu.
The stage was slippery, and I could not stop thinking of Miss's story of having slipped in Australia. After the performance, she hid in the toilet until Atthai (Rukmini Devi Arundale) had gone. I stifled a giggle as I remembered the story while we were dancing.
What I'll probably remember about this programme, though, is something completely different. In the green room, once our performance is over, friends always come and meet us, and they are usually as elated as we are.
Two friends came this time too. I was eager to know what they would say. Response from dancer-friends is always the best.
Both of them had exactly the same reaction. "Your voice sounded awesome when you compered today!" they said.
I'm not quite sure what to make of that.