The cover of the edition of Little Bits of Sky that I read is absolutely gorgeous. I felt like a child when I looked at it. I stared and stared. And then I played with the dust jacket a little bit. And then, just like a child, I was afraid I would damage it or something, so I quietly put it back in place and got on with the book.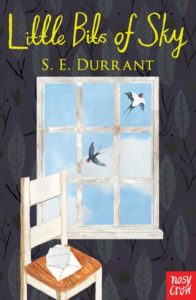 In many ways, Little Bits of Sky is an old-fashioned book. I don't say this just because it's set in the 80s and 90s; the feeling the book gives you is of something that belongs to another time. It's not an action-packed book with things happening in each chapter. A lot happens during the book, yes, but the story is strongly character-driven, and I love how this means that the setting comes alive to us too.
Ira (short for Miracle) and Zac (Zachery) are care kids who live at a children's home called Skilly. Ira, perpetually worried, must look out for her younger brother Zac. Without him, she is convinced that she herself will die. But as Martha, who invites them over for a week, points out, Ira is much more aware of what Zac wants than of what she herself wants. Everything revolves around Zac. But what about Ira?
The adult part of my mind that read this book buzzed with (perhaps irrelevant) questions. I could not stop thinking about everything I've read about how characters are, by default, white. As I read on, I was convinced that Ira and Zac were black.
Maybe this was obvious to some, maybe they aren't actually black at all. I don't know.
But I love how S. E. Durrant never says anything one way or the other. (If she does, I skipped it – I was too involved in the story.) Yet, Ira and Zac are never adopted because they want to stay together, and because they have curly hair. The second was what caused all the buzzing in my head. Curly hair? Really?
| | |
| --- | --- |
| Title | Little Bits of Sky |
| Author | S. E. Durrant |
| Genre | Middle Grade Fiction |
| Rating (out of 5) | 4.5 |
| Age-group | 10+ |