I was a little sceptical about reading a book called When She Went Away. A book with a name like that could well be a melodramatic romance novel, which really is not my type. I typically don't even finish reading stories that are too melodramatic for me; enjoying them is a long way away. And I know because I've tried.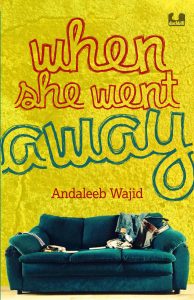 The moment I read the first paragraph of When She Went Away, though, I knew it was not about a romantic 'she', but about Maria's mother who decided she'd had enough of living her life with her family and went away. That was when I was moved by the title. When Ammi went away, everything tumbled into chaos and had to be picked up bit by painstaking bit.
The story filled me up with its twists and turns, its possibilities and surprises. Maria is not an entirely loveable character, but she rings true. When her mother goes away, she is torn between the desire to set things right at home and the angry notion that this is something she is expected to do because she is a girl. Her father and brother don't seem to care. In fact, Abbu is perfectly happy getting takeaway food day after day, letting dust pile up on everything, and washing the dishes only when absolutely necessary.
In the beginning, Maria is convinced that if she can find her mother and bring her back, she can restore normalcy. In time, though, she is forced to admit that her mother may not want to come back; else, why would she have gone away?
A promising relationship with Basketball Guy, alias Kabir, also becomes tumultuous because Maria is so caught up with the issues in her head. With interfering Munni aunty, who is determined to get either Abbu or Maria married off, an emotional roller-coaster is in store for Maria. Yet, the incredibly mature Kabir is a rock of support, determined not to tiptoe around issues, but to confront them head-on.
When She Went Away moved me with the rawness of its emotion. The story swept me into its tide and finally, left me with a small smile of contentment.