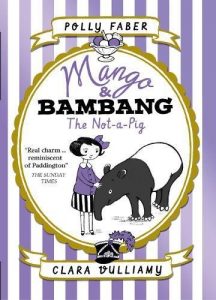 I'm still chuckling over Mango and Bambang #1 – The Not-a-Pig. It was just such a crazy, sweet book! Another story about an unlikely friendship, The Not-a-Pig is about a girl called Mango and a tapir! And I don't know about you, but I've never read a book about a tapir before.
There is a huge traffic jam because there's a hump on (or is it in?) the zebra crossing. What could the hump be? It is black and white, just like the rest of the crossing. What could it possibly be?
Enterprising young Mango is the only one who dares to find out, and she discovers Bambang, a very jittery tapir who has somehow wandered far away from the Malaysian jungle to which he belongs.
What follows is a blossoming friendship between a short-sighted tapir who loves trying on hats and a sensible young girl. What will she do about the Collector who wants to put Bambang in a glass case? And how can Bambang help young Mango in exchange for everything she has done for him?
The Not-a-Pig is a delightful book. And even if you put everything else aside, how can you resist a lavender book about a tapir?
| | |
| --- | --- |
| Title | The Not-a-Pig |
| Author | Clara Vulliamy |
| Genre | Humour/Animal story |
| Rating (out of 5) | 5 |
| Age-group | 8+ |