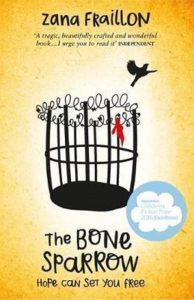 'I wish this book had never needed to be written. I wish that the circumstances that led me to write this story had never occurred.'
I close my eyes at the end of The Bone Sparrow, and I echo Zana Fraillon's words. I wish she had never needed to write the book.
What do we know about the Rohingyas? What do we do when we read news about their persecution? We feel bad and we turn to something else. Maybe we share the news we read. Or maybe, if we come across something on Facebook, we put a 'sad' or 'angry' before going on to like someone else's post.
The Bone Sparrow is written from the point of view of a young Rohingya boy, Subhi, born in an Australian refugee camp. Subhi knows his ba is coming back. In fact, sometimes, he even find little treasures his father sends to him across the Night Sea. One moment, you're chuckling at his little quirks – for instance, he has conversations with a rubber duck with 'to quack or not to quack' written on it. They're funny, full of silly jokes … Except when they're not. Sometimes, they are so poignant that you've just got to stop reading and look away for a bit to take it all in.
When Jimmie from the Outside befriends Subhi, things begin to change. Jimmie and Subhi both know that stories are important. Stories constitute their existence. Stories bring hope. And hope can set you free.
A lyrical, imaginative story, The Bone Sparrow begins conversation about what it is to be human. What is happening in the world around us? When the governments of the world refuse to help, what does compassion mean? The Bone Sparrow is a beautiful book, one that needs to be read.
| | |
| --- | --- |
| Title | The Bone Sparrow |
| Author | Zana Fraillon |
| Genre | Middle-Grade |
| Rating (out of 5) | 5 |
| Age-group | 11+ |