Bakul identified the turtles for us. I did not understand at all, not even enough to figure out for myself later. Himalayan Box Turtle? Perhaps. That was a name I discovered. But I know nothing about turtles. Can anyone help?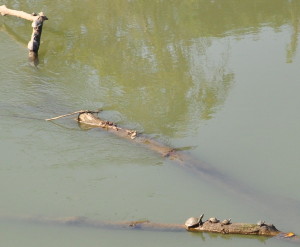 Ducks – we saw hundreds of them. A beautiful orangish red duck was everywhere.
"Radisson duck," said Bakul.
Or at least, it sounded like it. I came home and looked it up. 'Radisson duck' sounded believable enough. A Google search threw up images of Radisson ducks, though. Click there and you'll find out what I found out.
The ducks we saw weren't Radisson ducks. That was certain.

I looked at the larger picture, breathing deeply.
I blinked. Everyone else was still looking at the turtles.
I peered again, just to be sure.
"Haathi!" I said, incredulous. "Haathi!"
Those who have seen only captive elephants have no idea of the magic of wild elephants.
And I could see one! Drinking water, splashing water over itself!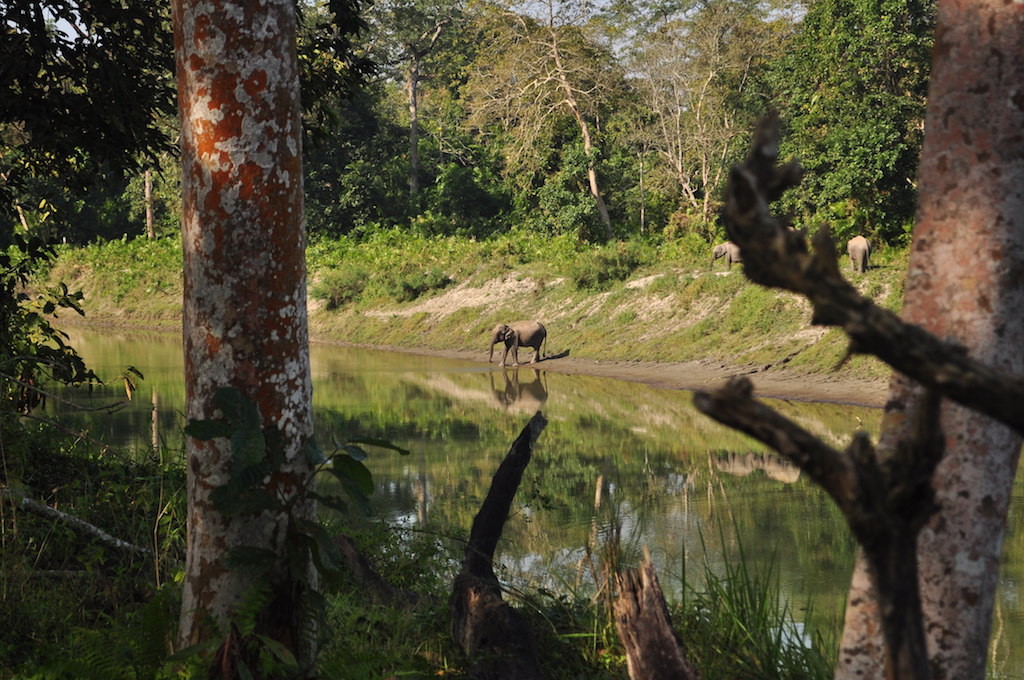 "Haathi, haathi, haathi!"
For Bakul, though, the elephant was just another animal. "Haan," he said, nonchalantly.
How could I tell him I wanted to go further ahead to see it? The turtles weren't less important … But then … No, sorry, in the light of elephants, the turtles were less important.
We went ahead and saw — not one elephant, but eighteen. We counted eighteen.
Two little ones trunk-wrestled. One cheerfully kept pouring water over itself – drinking, sprinkling, drinking, sprinkling.
It was magical. Elephants, I said to myself. There was nothing else to say. The majestic, gentle, beautiful creatures filled my mind, making every other thought disappear.