"Haan, rhino hai, udhar," said Bakul.
"Rhino?" I repeated.
I had to have misheard. He could not be so calm. He could not tonelessly say 'rhino hai udhar' and leave it at that.
In my head, though, I was saying, Rhino! Oo, rhino! Rhino! Where's the rhino? I want to see …
And there it was. Across a lake, eating away to glory.
Rhinoceros unicornis. The real thing.
Thoughts tumbled one after the other.
Does it get cock-eyed looking around its horn?
It really has a horn!
It's so big!
It's slaty-grey. It's … it's a rhino!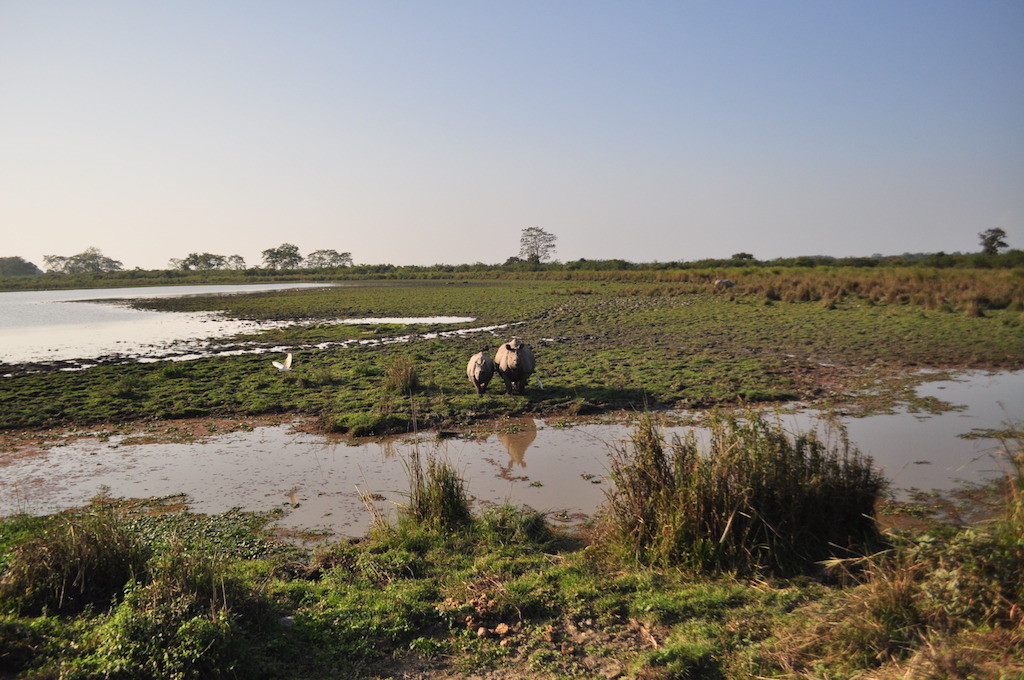 In my experience with forests so far, you don't just go away. You don't say, "Ah, there's a rhino," and peacefully drive off. I once watched a bear eat for almost half an hour. Because that's the way it is.
Or so I thought.
"Chalein?" asked Bakul.
"Hmm?"
"Shall we move on?" someone translated for me, as if language was the problem.
It was unheard of, unthinkable …
Apparently not.
As we moved on, I turned and looked, keeping my eyes on the rhino, never losing sight of it. Would I see another? Would it ever happen?
And very soon, I was thinking, "We really saw a rhino. Really. After wondering, hoping, wishing, dreaming … Bye, bye, rhino."
And then we saw eight turtles.