I've been resisting writing this post for ever so long because it sounds like some sort of advertising campaign. I promise it's not. It's just that I've used StoryWeaver so many times during workshops that I really wanted to share how easy it is to bring such wonderful resources into the classroom.

Why StoryWeaver?
The first answer – it's wonderful material that is free for use. Is that two answers already?
Considering the amount of material teachers require for class, free resources are a boon. We need them. We need to be able to share stories and ideas freely and easily.
Two, I can download and use resources from StoryWeaver offline. Many workshops I conduct are in places where the internet is patchy, to say the least. The last workshop I conducted, for instance, was at a school in Bhusawal. Earlier that day, when I was trying to check my email, I took 20 minutes to open one mail. Imagine needing that kind of time to get a page to load during class! Being able to use stories offline is excellent.
Three, I love the lists on StoryWeaver. Maybe each story in any given list is not perfect for me. Yet, having my choices narrowed down from about 15,000 available stories (and counting) is a huge advantage.
Four, each story I want to use is usually available in English, Hindi and Marathi. Particularly when I work in non-urban areas, having the same story available in multiple languages allows children – and teachers – to understand and connect ideas, and form a clearer picture of the subject of the story.
Why stories?
For me, this question is not even a question, but I've been asked it so many times that I want to address it here.
When there is a textbook, what's the point wasting time on a story? Stories are frivolous. They're entertaining, and perhaps useful in the larger scheme of things – like to build the habit of reading, but otherwise, they're a waste of time. That's the subtext of the question of why we should bring stories into class, especially while dealing with older children, who should be spending their time on "more serious" endeavours.
I'm not going to address the idea of reading in general here. I don't think that everyone must develop the habit of reading. Sure, it would be useful as a writer if more people read, but I'm very far away from saying that your life is incomplete/unwholesome in some way if you don't read. Sorry, I don't feel that it is.
Yet, since time immemorial, stories have been used to teach. I don't subscribe to the idea that learning something is the only – or even the most important – reason to read. Yet, in class, the learning element is relevant. When stories from Panchatantra to Aesop's fables have been used for so many generations, why should the technological age be any different? Choosing the right story to use in class can do wonders. It can change the perception of theoretical ideas and convert vague concepts to ideas that are real, practical and relevant.
Importantly, stories are fun. They change moods. Don't we all tell stories? Each child understands a story in a different way and takes something away from it. Some laugh and forget. Others learn. Still others mull over a story for days and come back with question weeks later. Stories have power.
Which stories?
Hundreds. I know that's no kind of answer, but I've used so many stories for so many different workshops that recommending just a few is difficult. Yet, I'll begin with the ones I used during my last workshop.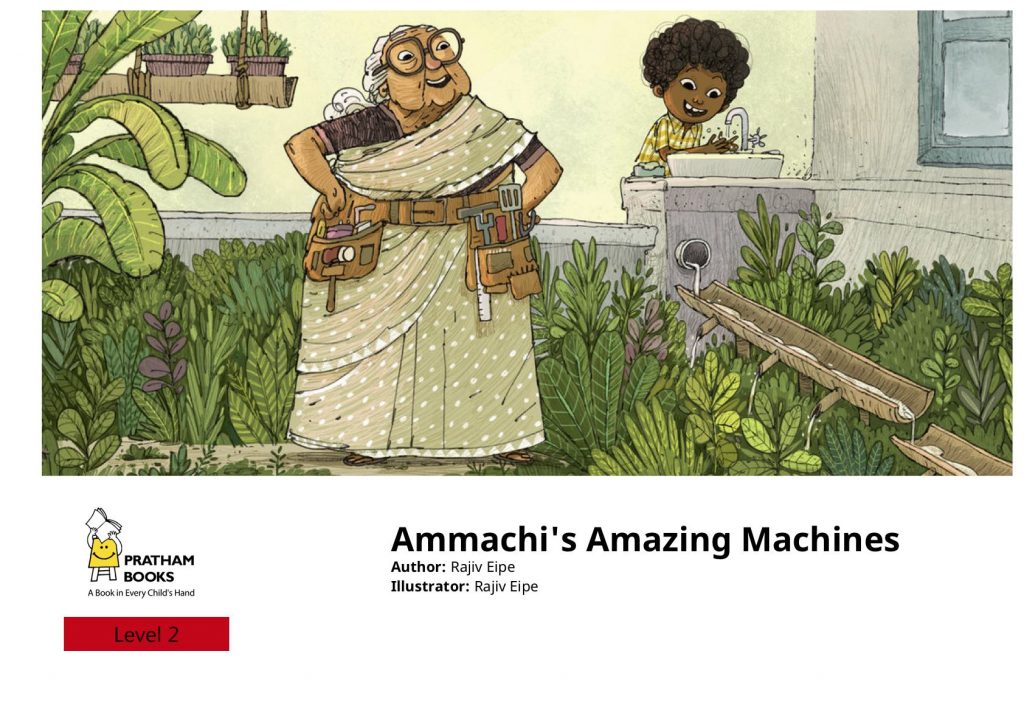 This one is a favourite. I've probably used it each time I've used StoryWeaver during a workshop. It has all the elements of a perfect story – fun illustrations, humour and lovely characters. Using it in class is an absolute delight too, for it ends with an introduction to simple machines. Which simple machines did Ammachi use? What machines do you use every day?
Savio Finds the Right Angle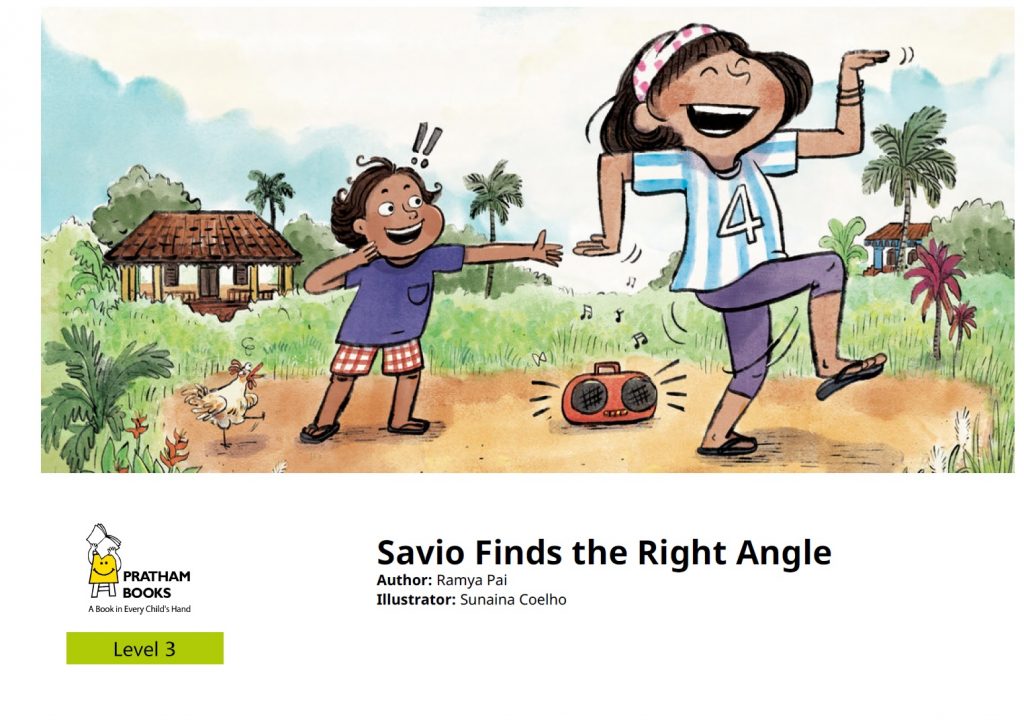 Once more, the story and the illustrations go together beautifully. In each picture, I love the fun the characters seem to be having. Right angles are everywhere, if only we stop and look. This story is a lovely starting point for so much more.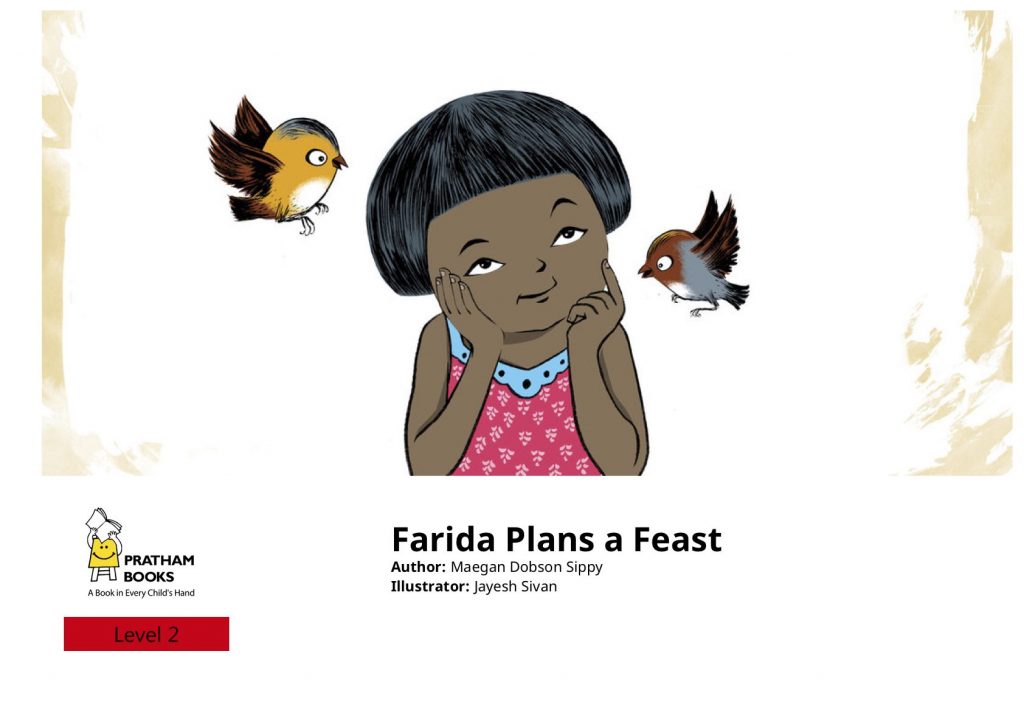 This is another story that I've used many, many times because I love it. Whether I'm teaching literature, animals or counting, Farida Plans a Feast is perfect. I love the build-up of the plot. What could Farida be planning? I also enjoy the easy numbers – one to five – as Farida collects everything she needs for her feast.
Other stories
I used just these three during my last workshop because I just wanted to introduce to the teachers the variety of stories they can access, but how can I resist the urge to recommend a few more?
That's all for now, only because this will be a never-ending post if I don't stop somewhere!
I am, of course, always on the lookout for more recommendations, so please write to me or comment here if there are exceptional books that you feel must be part of this list!