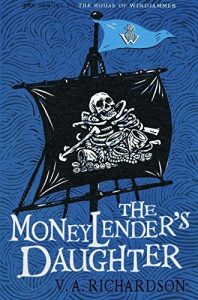 I often shy away from thick books. I'm not quite sure why because I have read (more than once) and enjoyed (tremendously) books like Gone with the Wind, Jane Eyre and Pride and Prejudice. Maybe, somehow, classics escape my prejudices. But books like The Moneylender's Daughter ought to as well.
As I began the book and got caught in the action, I found myself thinking, "It's the kind of book my mother should read!" For very predictable reasons – it's about the mercantile world of 17th century Holland. The associations were automatic.
I was halfway through the book when I realised that it was the kind of book I should read, simply because it combines so many aspects of fiction that amaze me. Characters, action, plot and description – The Moneylender's Daughter has them all! The switches in setting were perfectly timed, alternately building the atmosphere and providing relief.
What is truly wonderful is the way the book ends. The middle book in a trilogy, it makes you long to read the third book and find out what happens next. The characters are, metaphorically speaking, standing at the edge of a cliff daring each other to be the first to jump off.