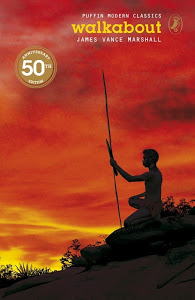 Unbelievably moving.
Two English children in the middle of the Australian desert – what are their chances of survival?
But they come across a bush boy. A naked dark-skinned Aborigine. They cannot communicate to one another, but they have to because the 'darkie's' attitude towards them is simple. He will not judge. Everyone is together in the single battle of life – the battle against death. When a little boy and a little girl are stranded, what can the bush boy do except help them?
So they begin their journey together, a journey that revolves around yeemara and arkooloola. These two are the bare essentials of life – food and water.
But how can the civilised, Christian, English girl Mary come to terms with a darkie who doesn't even speak her language? Besides, the darkie has no sense of shame and wanders around naked! And worst of all, little twinges of jealousy tell Mary that this darkie from nowhere somehow has more influence on her little brother Peter whom she has mollycoddled all her life.
Three children finding their way across the Australian desert. Puffin is absolutely right in calling it a modern classic.