When I started reading Sophie Someone, I simply could not figure it out. I was also a little put off by the idea that the whole story was told from the point of view of a pigeon. I have no love for pigeons.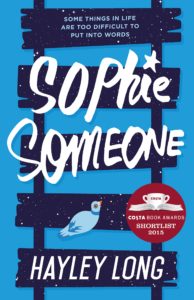 But then, something made me frown and say, 'Let's give this another shot.' I turned to the back of the book and saw a little pie-chart put there by the publisher. The pie-chart said the book was mainly about secrets. A small part of the book would deal with pigeons. And a bigger part would deal with word play.
Eyes a little wider, I began reading the book again–and could not stop until I had finished. And finally, when the last page was over, I found myself thinking, 'Oh, my God! That was such an incredible book! Are there really people in the world apart from me who understand it?'
Sophie Someone is an unusual book, to say the least. Sophie has a secret and she wants to write it out–to get it out of her system, as I would put it. But it's such a deep, dark secret that she can't just just write it so that any random person can read and understand it. So she writes it in code.
Slowly, I unravelled the code. A pigeon is a person. Her parsnips are her parents. It went on and on, and kept me engaged until I finished reading the last page with a sigh of pure contentment.
| | |
| --- | --- |
| Title | Sophie Someone |
| Author | Hayley Long |
| Genre | YA |
| Rating (out of 5) | 5 |
| Age-group | 13+ |