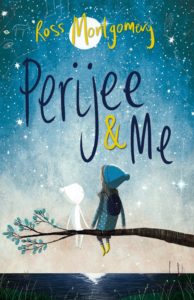 Caitlin is sure her disguise will work. She will escape from the camp that is supposed to keep her safe from the monster that is taking over the world. She will save her friend.
Caitlin dons a chef hat, and even writes 'chef' on it. If that's not convincing, what is?
Unfortunately, she looks like a ten-year-old. Also, she has always found reading and writing difficult, so she's spelt 'chef' with an 's', and she's put the 'e' the wrong way around. Somehow, the guard is not convinced that she's a chef.
Caitlin is an absolutely charming character. Lonely and friendless, she has no idea what she's going to do during her summer holidays, especially since her mother refuses to let her adopt animals and bring them home.
When Caitlin finds a little creature that looks like a prawn, everything changes. Before she knows it, the creature begins to grow. It can control its shape and as it begins to trust Caitlin, it wants to look just like her.
In that little creature, Caitlin finds her dearest friend. And his name is Perijee.
Perijee and Me, a wonderful story of love, loyalty and courage, is worth not just a read, but a reread and then maybe a few more rereads after that.
| | |
| --- | --- |
| Title | Perijee and Me |
| Author | Ross Montgomery |
| Genre | Children's Fiction |
| Rating (out of 5) | 5 |
| Age-group | 8+ |