Visiting a place for the first time can't be work and work alone, especially when there's so much to see and do. On days two and three at the Asian Festival of Children's Content, I attended fewer sessions, trying to make the most of my time in Singapore!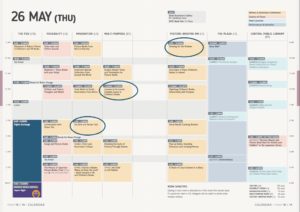 Penning for the Preteen, conducted by Holly Thompson, was a good experience for me, since that's the age-group I write for, and it's always nice to have ideas and thoughts affirmed by a group of writers. It helps me feel a little less lost.
During the session, what struck me most were views on what a preteen is like — and the idea that preteens often have confidence that is almost irrational. They are superheroes! It's before the slide and crash of self-doubt and identity begin … How interesting it was that this notion of preteens seems to cross so many cultures!
Sarah Odedina's session, Lessons to be Learnt: Complex Issues in Children's Fiction, was a lovely one: the room in which it was conducted was bursting with people! For the first time, I began to think seriously about writing a picture book. The idea is new to me and I have read so little in the genre that the project is a long time away, but exciting nonetheless.
Fat Girls are Heroes, Too! was an academic session that was interesting, but not entirely up my alley. I enjoyed the session, but as a silent observer, rather than a participant. What interested and saddened me was the realisation of how similar India is to the Philippines when it comes to skin whitening, women's bodies and the like …
That's all I attended before going out to do touristy things in Singapore!