This is probably the only time in my life when I signed a contract, committing to playing Illustrationary, the AFCC version of Pictionary, at a certain date and time. But when have I not enjoyed a game of Pictionary? I'm getting ahead of myself, though, because the highlight of the day was my book launch!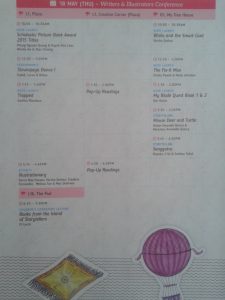 This charming little place called My Treehouse was where I launched Bholu and the Smart Card, the fifth in my series of railway adventures for young readers.
I began with a Connect the Dots activity, which everyone loved, much to my delight. I enjoyed it too, and was thrilled to see people from so many different countries come together there. Indonesia, Australia, Kenya, Singapore … It was so exciting! The challenge, though, was that I had a slot at the same time as the launch of the winning Scholastic picture books, so I did not have as large an audience as I could have hoped for. But it was my first international launch, so I'm not complaining!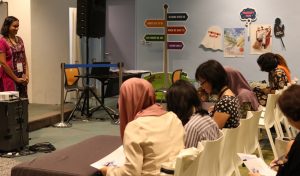 The joy of the AFCC is meeting so many different people, and after the launch, I just spent some time chatting to people I met, exchanging ideas, and realising how similar we are. The obsession with roots for instance – it's lovely to find kindred spirits who consider this as pointless as I do. And, of course, my agitation with the incessant question as to why I write in English … It was good!
Angelo Cerrito's session on creating page-turning fiction was interesting, especially in the way she spoke about relationships being defined by whether certain emotions are shared or not. I attended a couple of storytelling sessions, and then took part in Illustrationary. Paired up with Mas Shafreen, and pitted against Sierra Mae Paraan and Melissa Tan, it was as much fun as it promised to be.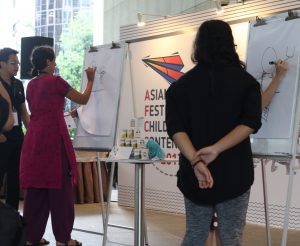 We had audience participation, which is what moved my team up from 2-nil down to victory!