When I went for the Asian Festival of Children's Content last year, I wondered when – and whether – I would go again. Yes, it was a wonderful experience, but Singapore … Again … Expensive, and all that. But my paper 'Writing about Us' was accepted through the call for entries and then, how could I not go?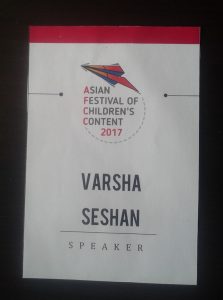 I began by attending a lively session on taking self-promotion back by Amy Ng. I particularly enjoyed the section on how not to write a query letter (and was mightily relieved to find that I've never written one of those!). She spoke about fairly familiar ideas, though, so it was more about reinforcement than learning something new. The big take-away was important, as always – don't network for the sake of networking! That's when it feels icky and forced!
Petra Nagyová Džerengová's session on death, divorce and other difficult topics was lovely too. What struck me was the idea that children need to be aware of all the "difficult" issues before they encounter them. Why talk about death after a child begins to cope with something s/he does not understand? We went through a list of picture books that deal with death in various charming ways — but also discussed the stereotype of death being portrayed as black and angels as white. When will that change?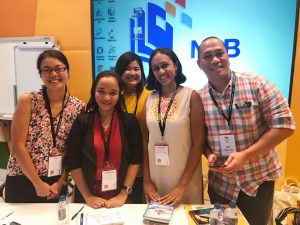 Then came my session; that was exciting! The room felt charged with emotion, especially when we came to a question about inclusivity having uncomfortable political connotations in some parts of the world. Homosexuality – does it have a place in children's literature? Of course it does! The conversation then naturally led to the recent withdrawal of the books And Tango Makes Three and The White Swan Express from the libraries.
We spoke about diversity and inclusiveness, and the ways in which we understand these terms. Wai Chim, author of Freedom Swimmer, spoke about how sometimes, including diverse literature is just part of the agenda. Chinese literature? Check. Indian literature? Check. And worst of all, African literature? Check. I don't know about the audience, but I certainly felt that an hour was too short to express ourselves!
Speed pitching and the writing critique were valuable too. There were only 13 submissions this year for the writers' critique, and I simply cannot understand why! There's so much to learn there, and the critique is anonymous after all!
Day one came to an end with a networking evening, and though I'm not great at networking, I enjoyed meeting people I met last year!