I enjoyed reading this review of Mr Oliver's Diary written by Arwen Banerjee, one of the students of the Writers' Club at St. Mary's School. The theme of the month was school stories, and this review was a refreshing change from the ones on Malory Towers, St. Clare's and others!
Mr Oliver's Diary: Review
Arwen Banerjee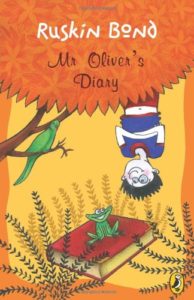 Ruskin Bond has written a lot of enjoyable books but Mr Oliver's Diary is my personal favourite.
Mr Oliver, a PT, Maths and English teacher is the main character and this book is his diary. He has noted every incident that has occurred in his hostel. He also mentions Tata, Mirchi and Basu and other students and their mischievous acts in a lively manner.
Some people think that a teacher's life is just about books and studies, but Ruskin Bond has painted a totally different picture of Mr Oliver's experience with his students. The language is simple and almost every line has a touch of humour in it. Every incident has something new in it. My favourite character in the story is Mirchandi or Mirchi, who, along with his friends, causes a lot of trouble. The students and their pranks, the crazy headmaster with his violin, Miss D'Costa with her oversized earrings and other characters contribute in making the story lively.
I, as a student, have never come across people as mischievous as Tata, Mirchi, 'Fatty' Prakash and the other students. I wish I was in place of one of the students and had Mr Oliver as a teacher.