Many, many years ago, a friend gave me The Suitcase Kid for my birthday. I devoured it — and did not understand it. I cannot explain that. I had never felt that way about a book before, and I have never felt that again. The chapters are arranged alphabetically, with each chapter starting with one letter. It was U that confused me, I remember. So I read the whole book again, and I still did not understand what exactly happened. I decided I would read it again, but somehow, haven't got around to it yet.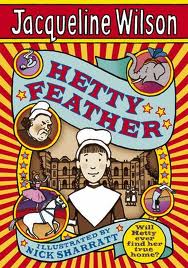 When I found a book by Jacqueline Wilson in the library, I thought about it for a while. Would it leave me with that same confused feeling? I didn't know, but I decided to give it a shot.
And I loved the book. Crazy, funny, poignant, dramatic – I loved Hetty Feather, the book and the character. I cringed a little at the stereotype of flame-red hair and a temper, but I loved the character all the same. A little like Anne Shirley, but not at all like Anne Shirley, Hetty Feather is a sparkling character that makes you want to sob and laugh. I want to read the other books that feature her!
(And I just realised there's a TV series too … I wonder if I want to watch that. Probably not.)
| | |
| --- | --- |
| Title | Hetty Feather |
| Author | Jacqueline Wilson |
| Genre | Historical Fiction |
| Rating (out of 5) | 4.5 |
| Age-group | 10+ |