I woke up in the middle of the night, frowning. I had a bit of a story in my head, and I could not remember who had written it. It was one of the Mary's girls, I thought … A young writer, I was sure. Maybe one of the sixth standard girls?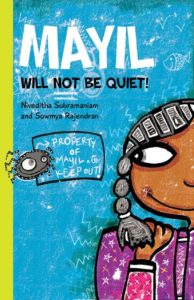 And then I realised, it was Mayil Ganeshan.
That's what I admired most about Mayil Will Not Be Quiet! The voice was so authentic that the book never once felt like it was written by two adults trying to write like a child. Each entry in this diary-like book rings true. Some entries are short; some are long, just the way mine used to be when I wrote regularly at Mayil's age (about 12). One big difference between her entries and mine is that I could not (and cannot) draw, so I don't have such a pretty diary!
Quirky and beautifully honest, Mayil Will Not Be Quiet! gripped me on the first page – and I really mean the first page. It begins, on the page with the title and names of the authors,
'this diary belongs to M.A.Y.I.L G.A.N.E.S.H.A.N
L.I.Y.A.M N.A.H.S.E.N.A.G
(that's me spelt backwards.)'
From being scared of staining her uniform to realising her own sexism, Mayil is a delightful, sensitive girl with a whacky imagination. Her diary is an absolute joy to read!
| | |
| --- | --- |
| Title | Mayil Will Not Be Quiet! |
| Author | Niveditha Subramaniam and Sowmya Rajendran |
| Genre | Middle Grade Fiction |
| Rating (out of 5) | 5 |
| Age-group | 11+ |