Four years ago, I read Elizabeth Laird's Oranges in No Man's Land, and was deeply moved. Then, two years ago, I read The Witching Hour, and loved it.
And now, her The Fastest Boy in the World did not let me down.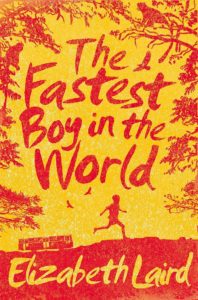 Eleven-year-old Solomon lives in a small village in Ethiopia. When his grandfather announces that he will take the boy to visit Addis Ababa, he is thrilled. To make things even more exciting, Solomon's heroes, who have won medals for Ethiopia in the Olympics, are landing in the capital the very same day … Things prove to be even more exciting, and Solomon's visit to the capital of Ethiopia is the beginning of a new life for him.
What I love about Laird's writing style is its simplicity. The way she builds suspense is wonderful, but more than that, I love how she makes a world come alive to us – Scotland in The Witching Hour, Lebanon in Oranges in No Man's Land, and Ethiopia in The Fastest Boy in the World. Looking forward to reading many more of her works – Goodreads lists a 156 matches when I search for Elizabeth Laird!