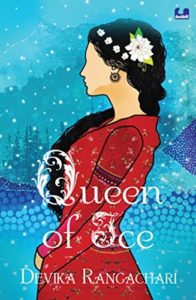 Didda knew that a grand destiny awaited her. She sometimes wondered whether her mother had bribed the astrologer to predict greatness and fortune so that Didda, who was not just a girl, but also lame, would not be killed at birth. But the prediction was made, and Didda was determined to fulfil her destiny.
Queen of Ice took me through beautiful, turbulent tenth century Kashmir, bringing alive a time and place about which I knew nothing. I usually do enjoy historical fiction, and this was no exception. Court intrigue and the sheer power of the characters made me turn page after page until, before I knew it, the book was over.
The wonderfully drawn relationships amongst the characters, the balance of murkiness and clarity in the machinations of Didda's court, and the effortless storytelling made Queen of Ice the powerful book it is.
| | |
| --- | --- |
| Title | Queen of Ice |
| Author | Devika Rangachari |
| Genre | Historical fiction |
| Rating (out of 5) | 4 |
| Age-group | 13+ |