Every book by Michael Morpurgo that I've read so far has been gripping from the very first chapter. When I saw An Eagle in the Snow at the library yesterday, I snatched it up, thinking of a lovely weekend with a wonderful book for company.
And then I had nothing to read while I waited for a bus, so I decided to start reading it … and I just finished reading it.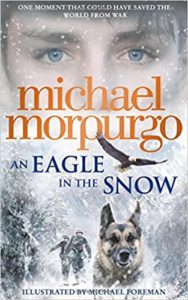 Historical fiction is lovely when it brings a time and place alive to the reader. The joy of historical fiction, to my mind, is that I start reading it with next to no knowledge about the period and finish with the satisfaction of having been there and seen that. Set in the second world war, it's not possible to know next to nothing when it comes to An Eagle in the Snow; yet, the story strikes the reader as fresh and poignant.
Inspired by the story of Henry Tandey, a highly decorated Private, An Eagle in the Snow is set in 1940 and told as a meta-narrative. If I tell you what he is famous for, apart from the number of medals he received, I would be giving the story away. The story is powerful, packed with Morpurgo's masterful building of suspense. The structure and storytelling both contribute to those wonderful whispers in your ear that say, "Okay, maybe just one more chapter" … until the book is over.
I was a little disappointed by the conclusion, though. It was unsatisfactory; it seemed to me to be quick and convenient, I felt. Yet, the book was well worth reading. The cover says One moment that could have saved the world from war. Powerful words promising much – and An Eagle in the Snow doesn't let you down.
| | |
| --- | --- |
| Title | An Eagle in the Snow |
| Author | Michael Morpurgo |
| Genre | Historical Fiction |
| Rating (out of 5) | 4 |
| Age-group | 10+ |