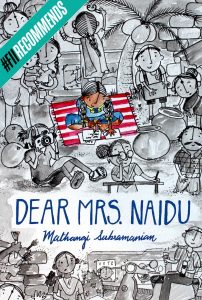 Dear Mrs. Naidu has been on my list of books to read for a long time now. I finally read it today, and it came at the perfect time.
Sure, the book is important. It is an eye-opener. But to talk about just those things to the exclusion of all else is to take away the charm of the voice of the lead character Sarojini. She is one of my favourite characters in literature. I love how she writes!
Twelve-year-old Sarojini goes to a government school in Bangalore. When a new teacher, Annie Miss, joins the school, Sarojini is puzzled by Annie Miss's strange ideas of a 'just-and-beautiful-world'. But Annie Miss's ideas lead her to a club on child rights, which in turn makes her learn that she has a right to education. Annie Miss says that writing letters can help her brain and heart grow, and honestly, Sarojini is more concerned about the brain bit because that is what will get her a job, eventually. She chooses to write to her namesake, Sarojini Naidu, because she is inspired by Mrs. Naidu's struggle for freedom.
What unfolds is a moving story – the story of a fighter. Among the best lines in the book is where Sarojini says that she, with her friends, can definitely make changes to her school. They can build a wall and mend the gate and all of that. The question is – why should they have to? These things are rights, not privileges.
Dear Mrs. Naidu is full of powerful characters, and I love all of them. More than once, Sarojini's quirks brought a smile to my face. I would, in fact, go as far as to say that this is a book everyone should read. I enjoyed it thoroughly.
| | |
| --- | --- |
| Title | Dear Mrs. Naidu |
| Author | Mathangi Subramanian |
| Genre | Middle-Grade |
| Rating | 5 |
| Age-group | 11+ |