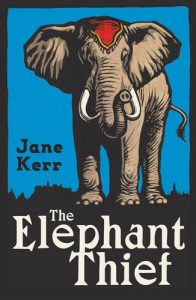 The Elephant Thief was one of those books that I would have loved to read as a child, and thoroughly enjoyed as an adult. At the back of the book, there are three words that describe it – animal, adventure and thrilling. I think the first two sum up the book perfectly. I wouldn't go as far as to say it was thrilling, but it certainly was exciting.
The twists and turns in the plot were sometimes surprising and sometimes predictable. As always, more than twisting plots, characters drew me in. The special relationship in this book is the one that blossoms between the street-urchin-turned-prince Danny and the elephant Maharajah. I am not at all a fan of elephants being domesticated – elephants belong in the wild. But then, this is historical fiction, loosely based on fact, so I couldn't really complain. I enjoyed the book!
Additionally, The Elephant Thief was a quick read that will make me keep a lookout for other books by Jane Kerr.
| | |
| --- | --- |
| Title | The Elephant Thief |
| Author | Jane Kerr |
| Genre | Historical Fiction |
| Rating (out of 5) | 4 |
| Age-group | 10+ |