Is it possible to write about France and not talk about the food?
Much more plastic conscious than ever before, I didn't buy any of the little cups of fruit yoghurt, or the chocolate mousse at the supermarkets, or anything that stood there on the stands in single-use plastic. But staying in a French family brings so much to the table that I missed nothing!
I've written before about being what I once called 'impure veg'. I do eat meat, yes, once in a while. But I rarely – if at all – choose to eat meat. When I was younger, I was keen on eating everything; I tried hard to fit in. Now, I continue to try to taste everything, but I don't push myself to do so – no FOMO anymore!
In Europe, my favourite meal, I realise, is breakfast. When our French friends came here, they commented, "Indian breakfast is typically savoury; how lovely!" A savoury breakfast is possible in France, of course, but without the range of upma, poha, sabudana et al, it does tend to feature things that are sweet – and that's what I love.
I love the breads, the jams, hot chocolate, juice, coffee – mm! I love the jam so much that for lunch, too, when sandwiches were being made, everyone, by default, had sausages in some form, while I had homemade quince jam sandwiches! Quince, which belonged all this while to stories in the recesses of my memory, became real, and I loved it so much that I brought a bottle of jam home.
Three of my mornings began with a visit to the baker to get fresh baguettes, pains au chocolat, chaussons aux pommes … And then the meal began. French meals at home are leisurely affairs, sometimes two hours long, sometimes even longer. On Christmas day, we started eating lunch around 1 and wound up at 6!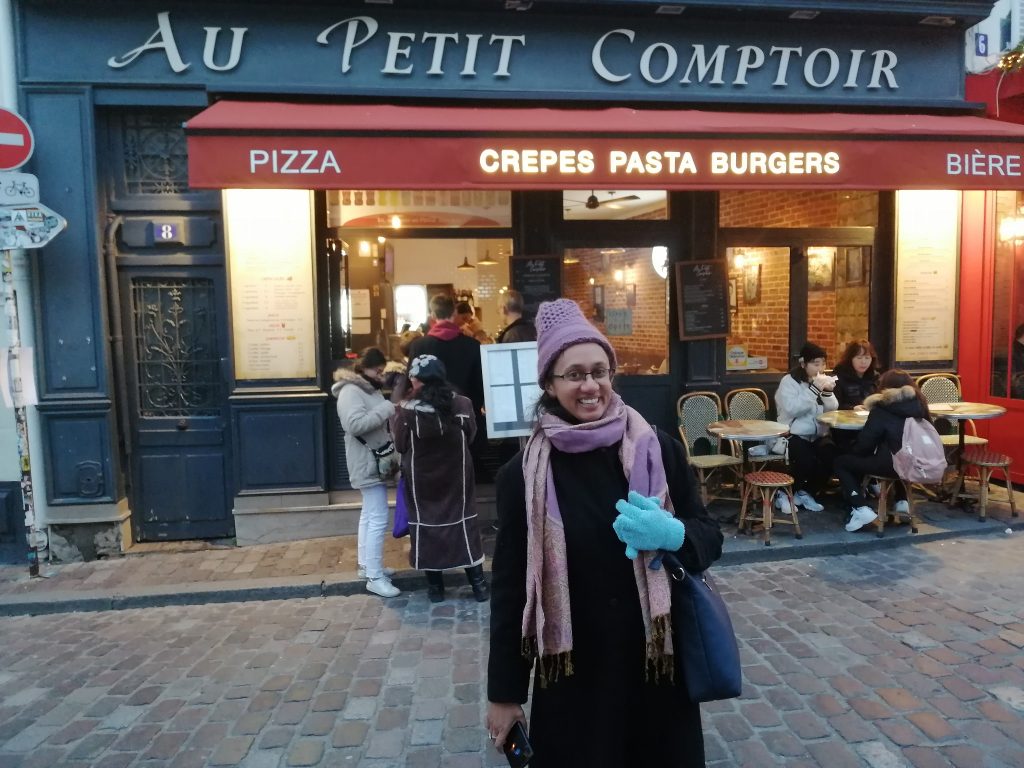 Much of what I like in terms of food depends on what I feel about it. It's difficult for me to eat foie gras, oysters and snails, though I did taste it all. Foie gras, like so much other meat is just too strong a flavour for me. And oysters and snails? Wrapping my head around the idea of eating them was the hardest of all.
Oysters are alive when they're brought to the table – to ensure their freshness. You squeeze lemon on them to kill them and then scoop the flesh out. Yes, and after all that, to my taste-buds, an oyster is like a mouthful of seawater.
Snails are still in their shells when they're brought to the table, and the kind we had at Christmas had a green chutney of sorts on them. They're baked, and you poke them out of the shell to eat them.
Everyone joked that it seemed likely that I would eat bread and butter for lunch – and you know what? That didn't seem like a bad deal to me. The bread was delicious, and there were also so many kinds! My favourite was probably the one with apricots – mmm!
And no, I didn't eat just bread and butter. There were green beans with a delicious onion sauce, and I did eat sanglier too – I knew what it was thanks to Asterix! Yes, it's wild boar, though the whole boar was not cooked and brought to the table; a single leg was enough to feed about 18 of us. That puts into perspective just how much Obelix eats, doesn't it?

But what I love most is dessert. Chocolate mousse, Yule logs, more chocolate … And that is why we loved one of the Christmas gifts we got – a basket full of bars of chocolate! We're still eating them, trying to eke them out as long as we can …
Spending Christmas with a French family was special, truly special. I loved how the children stood, hopeful and starry-eyed, singing Petit Papa Noël. I loved how we all ate together, talking, laughing, sharing stories. I loved how everyone included us, though we were, in so many ways, the outsiders. There's something about food, isn't there, which brings people together, no matter what?