Art everywhere –
in the cathedral, on the pavement, in shop-signs …
I visited Chartres last about ten years ago. When I told my French family that, they were concerned. Would I like to go to the same place again? Should we try to do something else instead? Was there something else I had in mind?
I shook my head. I remembered how struck I was by the grandeur of the cathedral and I knew I would love to go again. The problem, always, is that the memory retains so little. Or maybe it isn't a problem. It allows us to experience things afresh, almost as if it is for the first time, with just a warm sense of familiarity that adds to the experience rather than taking away from it.
From my previous visit, I remembered only the cathedral, not the beautiful town or the typical crisscross architecture of so many of its buildings. I didn't remember shop-signs tucked away into corners or beauty on the pavements on which we walked.
This time, just like at Montmartre, we discovered art in nooks and crannies everywhere in Chartres. Once more, the Christmas markets were less appealing; the artistic surprises were far more delightful!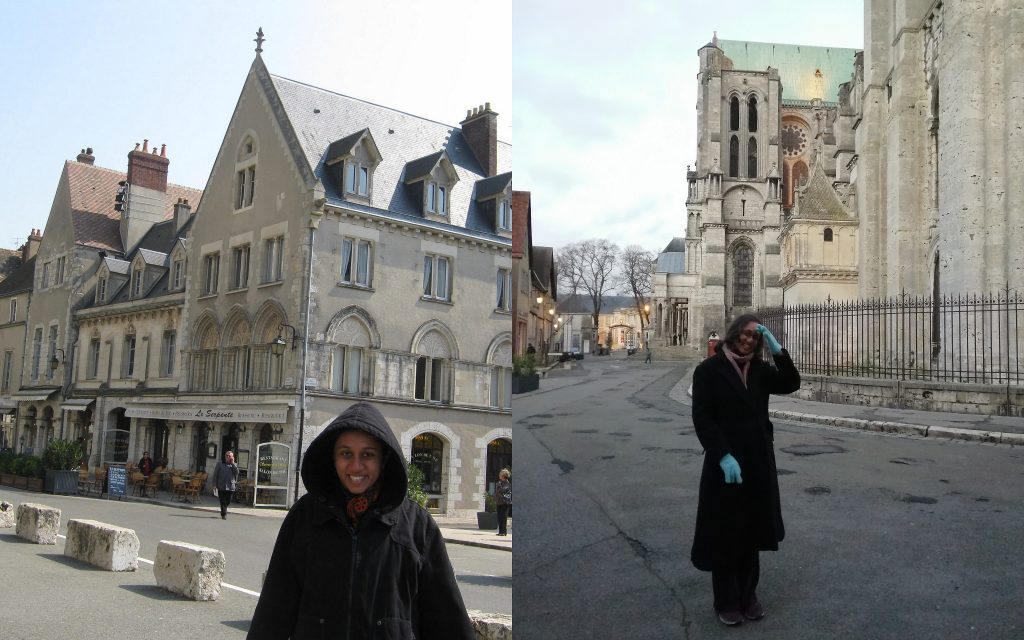 And of course, there's a reason why I remember the cathedral so vividly – it is breath-taking. Partially rebuilt after a fire in 1194, all kinds of architecture come together in the cathedral, dating back the 8th century. The Gothic elements appeal to me most – ornate and splendid – but it's the whole sense of space – inside the cathedral and outside – that is awe-inspiring.
This time, much of the cathedral was being "cleaned" and I was a little ambivalent about it because some of it looked like whitewash! Gothic architecture, to my mind, is awesome when it's dark, not white.
It was Christmas eve, and we wanted to see how the cathedral would be lit up, so we wandered around the centre-ville, looking at everything and visiting tiny shops and kiosks at the Christmas market. Before sunset, we were back, in time to see the sound and light show, which was magnificent. It was so lovely that we stood there and watched it many, many times – I don't even know how many!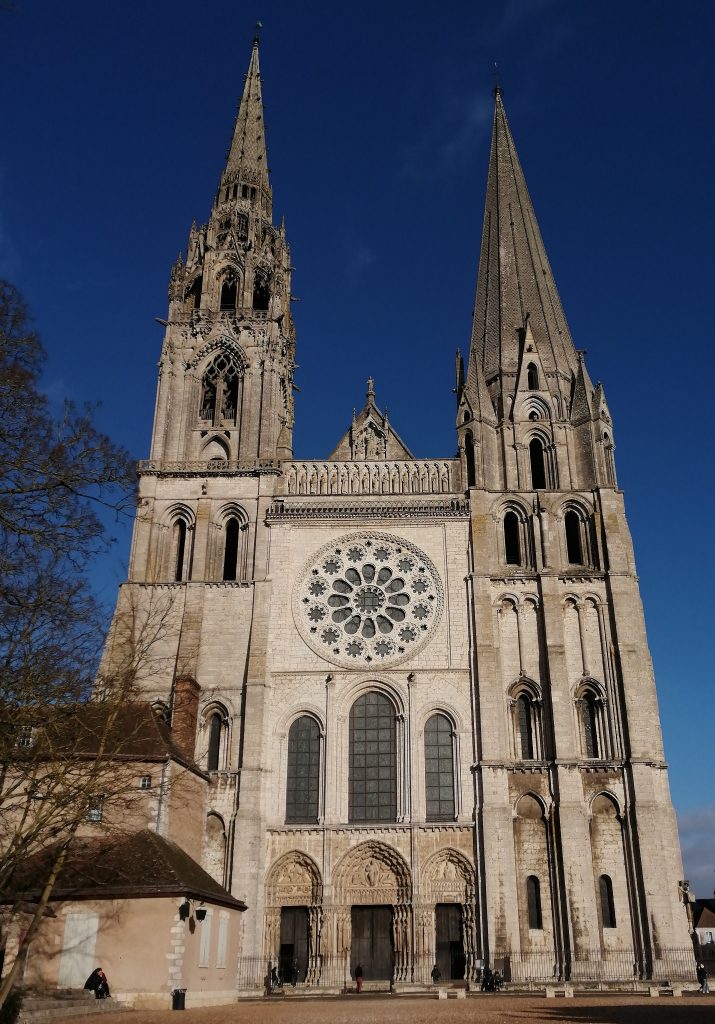 And then, of course, comes the story – where we got lost. Perhaps we could pretend we were exploring the city a little bit more. Why ever not, after all? It's a charming city, and every street was festive. We went round and round, through the centre ville (pretending we were window shopping) and across a lovely garden (we hadn't even seen it before!) and finally, much later than planned, back to the car. Chartres ensured that we explored it thoroughly before we were permitted to leave!
Christmas eve ended with dinner by a real fire at home, and warmth all around. As I went to bed, I knew that that was pretty much my idea of perfect. Christmas would be special in another way.