The more workshops I conduct, the more I realise how much I learn from them and enjoy them. The last workshop post was about a guest at the Writers' Club, but a lot has happened since then.
Writers' Club
At the Writers' Club, I am constantly struck by the role experience plays in the way I organise my sessions. For at least the last three years, in an attempt to get children to explore different genres of writing, I also push them to explore all kinds of stories when it comes to reading. To do that, I choose a theme for each month, and the theme for the first month was adventure. When I corrected their notebooks, look at the lovely surprise that awaited me!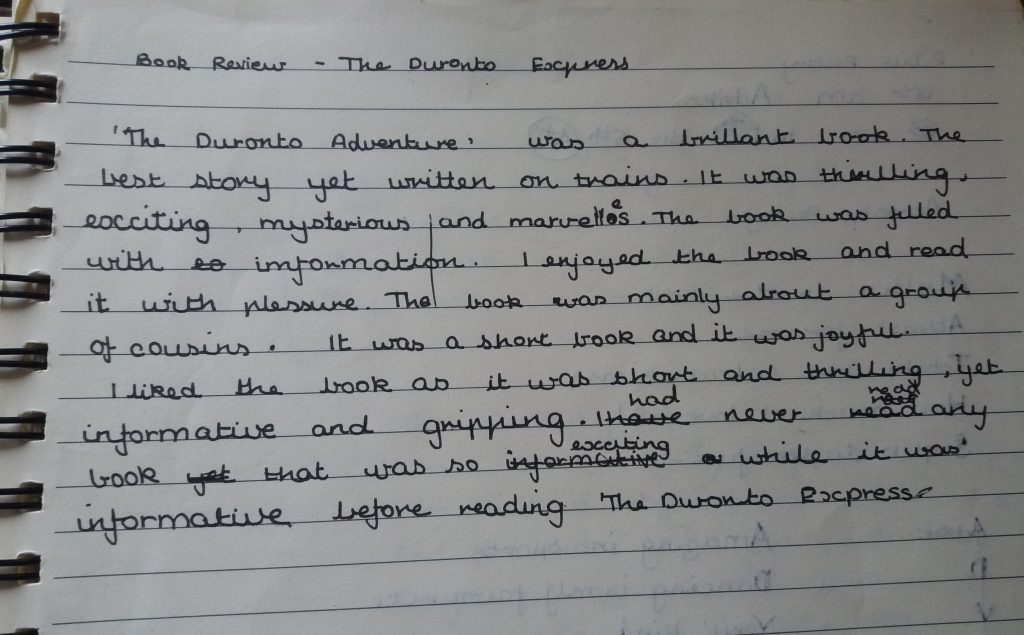 The girl who reviewed it picked up a copy from the library. Unfortunately, the book is currently unavailable, which is why I haven't linked it here.
Omkar CBSE School
A workshop on grammar can either be dull or great fun. Yes, I do love grammar. I think it's exciting, and teaching it can be enjoyable. This one at Omkar was, happily, the second.
Working with Ratna Sagar's Grammar Plus series made for a light-hearted and hands-on workshop because the books are full of grammar games and enrichment activities that make the teaching of grammar a natural process rather than a series of rules and exceptions!
Books Meridian
My writers' club at Books Meridian is progressing well too. I was sceptical about how it would turn out because this is a club completely organised by parents. There are just five children in all, which could become a drag, but all five are so enthusiastic and eager that I enjoy each session with them. For the September session, we worked with cryptograms, lipograms, pangrams and more. We've been working on poetry for a long time – we'll move to stories next month!
Villa Theresa
A creative writing workshop with the students at Villa Theresa in Mumbai was everything it promised to be: engaging, interactive and rewarding. I was a little daunted by the idea of interacting with classes VIII, IX and X together, but it turned out to be exciting, despite the large numbers. We worked with language, explored character and discussed technique. An hour is never enough, but it was lovely, nonetheless.