How do you write a modern novel with a child detective? Famous Five and Secret Seven aren't really believable anymore because now, everyone thinks of the tape that cordons areas off, and the fact that clues simply aren't that easy to find.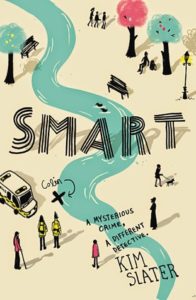 Smart by Kim Slater shows you how it's still possible to write a mystery story, despite all these practical considerations. And she gives you a story that is not just about a murder being solved, but also about slow learning, race, drugs, domestic violence, and love.
When I finished about half the book, I did a mental recap. I thought about the idea of writing stories that address important issues, issues that need representation. I also thought about how easy it is to make a book seem agenda-driven if it deals with even one of these issues. And Smart dealt with so many! Granted, in many places, it did feel a little agenda-driven; yet, these places were so few and far between that even I, who hate agenda-driven novels, could just bypass them and go on.
Above all, I loved the lead character Kieran Woods. We don't need to label what kind of person he is. Maybe he is autistic. Maybe he has ADHD. Maybe anything. His step-father calls him 'retard'. But even without Kim Slater giving us that convenient little label, Kieran emerges as a full-blooded character, one that I wanted to reach out to. His warmth, his sense of self-preservation and his spirit made me read, page after page, until I finished the book with a smile on my face.
| | |
| --- | --- |
| Title | Smart |
| Author | Kim Slater |
| Genre | YA |
| Rating (out of 5) | 4 |
| Age-group | 13+ |